Picture this; fresh bed sheets, cosy PJs and Netflix at the ready…dreamy right? 
There's nothing better than spending a whole day binge watching movies, especially if they're rom coms. The cheesy pick-up lines, clichéd plots and outrageous comedy moments – seriously, watching this sub-genre will instantly improve your mood. 
Picking 14 of the best rom coms on Netflix was by no means easy, but we did it. Keep reading to find out which movies made the cut! 
PS, did you like how we chose 14? Because, you know, Valentine's day and all…it's a romantic number isn't it?!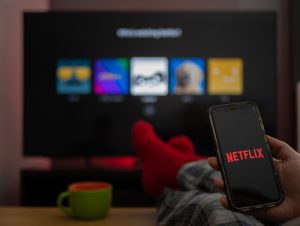 1. Notting Hill (1999) 
Hugh Grant and Julia Roberts, need we say more? The iconic duo star in without doubt one of the best rom coms of all time. 
When their worlds unexpectedly collide, a budding romance forms between the two – but will it work out? 
2. Bridget Jones Baby (2016) 
Bridget Jones is a heroine we can all relate to in one way or another and her positive demeanour throughout the film is admirable. 
The Colin Firth kiss automatically makes this one of the best rom coms, hands down. 
3. How To Lose A Guy In 10 Days (2003) 
Starring Kate Hudson and Matthew McConaughey, this 2003 classic will be sure to get your emotions running high. 
All we want is for them to just fall happily in love, is that too much to ask? 
4. Kissing Booth (2018)
A cheesy, American romantic comedy which is bound to make you feel all sorts of emotions. 
This film follows the storyline of a forbidden romance in the teenage era; will they end up together? Or will the iconic 'kissing booth' leave their relationship in pieces?
Watch on Netflix to find out… 
5. To All The Boys I've Loved Before (2018) 
Again, another cheesy Netflix rom com but a favourite of many. 
When Lara Jean Covey's love letters are exposed, chaos ensues…well is anyone surprised? We'd be absolutely fuming!
We promise this is one not to miss! 
6. Friends With Benefits (2011)
Mila Kunis and Justin Timerlake in a relationship are just goals. 
This romantic comedy is more of a modern cult classic,  following these two individuals who decide to bring sex into their 'friendship' without emotion or commitment. 
As you can imagine, being friends with benefits isn't an easy ride to go on (wahey!), so prepare for a whirlwind film full of many twists and turns!
7. Couples Retreat (2009)
A couples retreat sounds kind of normal…right? Well, think again. 
This 2009 rom com on netflix takes you through the relationships of four couples, who all travel to a tropical island resort for 'therapy'. 
It's eventful, to say the least, and a must watch if you want to be in stitches of laughter!
8. Holidate (2020)
Holidate is a relatively new film to netflix, airing in late October 2020. 
It stars the iconic Emma Roberts as Sloane and is set around the season of Christmas.
You can imagine Christmas to be a joyful time, however, it isn't all that festive for Sloane, as she's constantly reminded by her family how lonely she is and how she needs a partner. 
Unexpectedly, her paths cross with Jackson and everything begins to slowly change…
9. 13 going on 30 (2004)
If you haven't watched 13 going on 30, have you been living under a rock?!
It's one of the best romantic comedies out there, again starring Julia Roberts (we just can't get enough of her!)
We guarantee it'll make you think more carefully about what you wish for on your birthday, that's for sure!
10. Set It Up (2018)
When two assistants conjure up a plan to get their bosses to fall in love, they come to find it might not be as easy as it seems.
Make sure to watch this rom com on netflix if you need a feel good, pick me up sort of movie!
11. The Ugly Truth (2009)
Prepare to be seriously entertained with this romantic comedy on Netflix. 
Hopelessly single Abby (Katherine Heigl) works as a TV producer and is teamed up with Mike (Gerard Butler), possibly the most opinionated celebrity out there.
Their relationship doesn't get off to the best of starts and the film in general is a battle of the sexes, not to be missed!
12. Something Borrowed (2011)
Tripping into bed with your long-time crush is something we've all probably dreamed of before – right?
Unfortunately, for Rachel (Ginnifer Goodwin), after a wild night on her 30th birthday, she lands in bed with her 'long-time crush', who happens to be her bestie's fiancé…oops!
Watch as this Netflix movie takes you on a whirlwind of all things love, hate and jealousy!
13. My Best Friend's Wedding (1997)
Keeping on the trail of besties, My Best Friend's Wedding is one you just have to binge watch!
From the title alone, you kinda expect this movie to be a positive story, however, from the eyes of Julianne (Julia Roberts), it's her worst nightmare!
It plays on the question of 'can girls and guys be best friends without falling in love?'…
14. The Holiday (2006)
The Holiday is arguably one of the best Christmas films of alllll time (romantic comedy style), extremely easy to binge on your day off.
Starring Kate Winslet, Cameran Diaz, Jude Law and Jack Black, this ultimate classic tells the tale of two women who switch homes to hide away from their relationship issues. 
Little did the two women know that a love story would brew for them on the other side of the world! Seems too good to be true – right?
Well that was eventful, we feel overwhelmed with how much love was spread through this blog! We also have blogs on how to keep zen whilst stressed with work, make sure to check them out!