After a dreamy work from home set-up? Don't worry! We've got your back.
Working from home can sometimes be tough and you're either someone who works from a desk…or works from your bed!
At first, working from home may seem a little weird and a little more relaxed than usual – but that's not a bad thing.
If you're the type of person that likes to work alone and get the job done, working from home and be a dream!
It's really all about getting the perfect work from home set up in your cosy co-living accommodation.
Let's check out our 8 tips to get the ball rolling, you'll be a working from home pro in no time.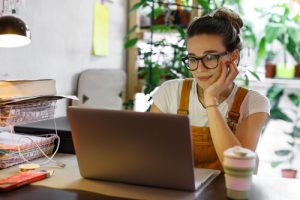 1.   A Dedicated Space
To get the best work from home set up, you really need to establish a dedicated workspace!
By that, we mean choosing somewhere other than your bed to work from (soz guys.)
That doesn't mean that you can't ever work from your bed though! If you're having a bad day, you do you.
Luckily for those staying in our fab co-living accommodation each of our rooms include a desk area –perfect for remote working!
A dedicated space allows you to focus, it mentally gets you into work mode and minimalizes distractions.
It's a really great way of creating a work/life balance when you're at home and separates work from your personal life.
Make sure that you keep your space minimal with as little clutter as possible (it'll only stress you out, and we don't want that!)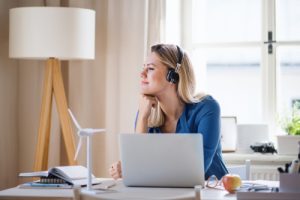 2.  Ergonomic Desk Chair
You'll find as you get older, the more you struggle with back pain (am I right, millennials!?)
That's why getting a nice comfy chair is key for the best work from home set up, comfort is very important.
Don't worry though, ergonomic desk chairs aren't actually all that expensive, and if you shop around, you can grab a bargain.
For example, this office chair is only £80, which seems like a lot, but if you're going to be WFH a lot – it'll be a life safer!
If you'd rather not get an ergonomic desk chair, it's no worries, but just make sure you're regularly stretching and have plenty of support.
For those who have back troubles, it might even be worth looking on Amazon for a back support pad.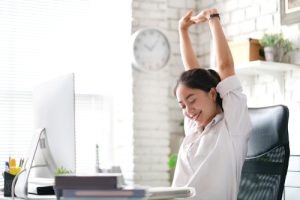 3.   A Soft Light Desk Lamp
A soft light desk lamp can be nice and easy on the eyes, as opposed to harsh office lights that are sometimes blinding!
They really set the cosy, comfortable mood for your work from home set up, and are definitely worth purchasing.
A lamp like this is a great way of reducing eye strain, and will really come in handy in the dark gloomy winter months.
For now though, deffo stick with plenty of natural light, which we will touch on later in the blog!
If you're interested in purchased a soft light desk lamp for your accommodation, click here and have a mooch.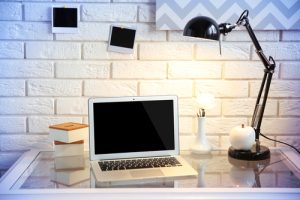 4.   Good Internet
There's nothing worse than..being..on..a..Zoom..call..that..keeps..lagging – right!?
That's why we'd highly recommend making sure you have a good reliable internet source at your work from home set up.
For those staying with us at One Living, we've got you covered! It's good vibes all round with our fast, reliable WiFi.
The best part? The WiFi is included in your bills, so you don't have to worry about any annoying unexpected bills!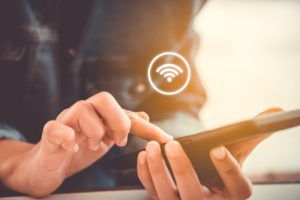 5.     Plants (And Lots Of Them!)
Plants are all the rage at the mo, and if your home isn't filled with them yet…why not?!
Having plants in your office or work from home set up has been shown to improve air quality and increase attention span.
Plants in your home and office are basically little cleaning fairies that freshen up the air around you – how cool!?
As well as this, it's also said that plants improve your mood, reduce fatigue and lower stress and anxiety.
You're probably thinking buying some plants will cost a fortune…well we can prove you wrong!
We've discovered Patch Plants with some seriously cheap plants for sale with zero contact delivery – hurrah.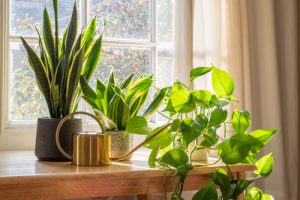 6.     Proper Monitor Height
The height and monitor position can really affect your sitting position, it also affects the way you hold your head and how hard your eyes work!
If you're going to be using your computer all day, you really need to make sure you have a proper monitor height.
Make sure you adjust the monitor height so that the top of your screen is at or slightly below eye level.
If you have a laptop, don't worry, there are plenty of laptop stands you can grab on Amazon for a pretty decent price!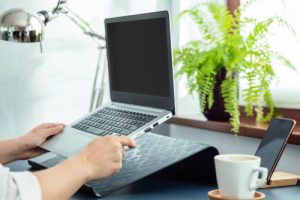 7.     Natural Light
Workers with natural light exposure are definitely more likely to stick to their working schedule, and they'll feel happier too!
The connection between natural light and Vitamin D is a very well known one, and we're here to explain the science-y part.
The light affects the hypothalamus on the brain, which actually influences the body's internal clock and the production of serotonin!
If you're struggling to get any exposure to natural light, be sure to pop out for a walk on your lunch break to get some.
And if the sun isn't shining, it's all good! Funnily enough, even murky grey skies are better than no exposure at all!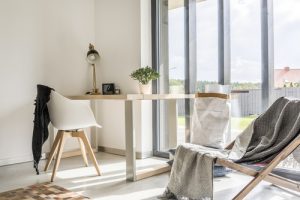 8.     Headphones/Speakers
A good pair of headphones/speakers are very important for a great work from home set up.
They're always handy pieces of equipment for meetings, and even better, blasting out your tunes when you want to focus.
You don't have to spend a fortune on these either! Usually, smartphones come with a decent pair of headphones.
Or you could really push the boat out and get some noise cancelling headphones so you can really enjoy your music!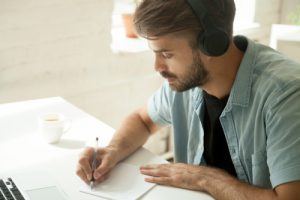 We hope you found these 8 tips on how to get the best work from home set up useful. Working from home has become increasingly popular since the pandemic, and it's definitely the way forward. It doesn't cost much to get that dreamy work from home set up, and with our cosy One Living accommodation as your base – you'll be living the high life!