As a young professional living in co-living accommodation in Kingston Upon Thames, we're sure you love pizza just as much as we do. It's easy to scran, pretty affordable and deliciously tasting.
Well, you're in for a treat as there's absolutely tons of restaurants for you to grab some yummy pizza in this town – hell yeah!
No matter if you're after something quick to take away, or a nice sit down and chill kind of meal, we've got you covered with a big mixture of eateries.
So, without making you any hungrier, read on to get a slice of the action with the 8 best places for you to visit…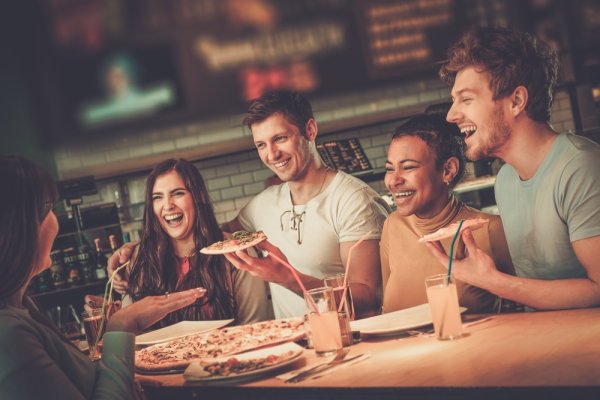 1. Wildwood
If pizza is what you're craving for lunch or dinner, then head to Wildwood, a stylish and modern restaurant located on High Street in the centre of town.
This place offers a large variety of classic pizzas, calzones as well as artisan hand-crafted pizzas, depending on which is your go-to.
We must recommend the Calabrese which comes with dry-cured pork sausage, speck, Milano salami, cherry bell peppers.
If that isn't cutting it for you, how about their double pepperoni with thyme? All their pizzas cost less than £15, so it's certainly affordable – especially for London prices!
They also offer a non-gluten pizza base and vegan options too, so no matter your dietary requirements you'll find a dish on their menu to suit you.
After you've filled yourself up with all the cheesy goodness you could dream of, why not wash it down with a refreshing cocktail?
A favourite of ours is their Alabama Slammer with Southern Comfort, Amaretto, orange juice and grenadine!
View this post on Instagram
Address: 2-6 High St, Kingston upon Thames KT1 1EY
2. Terra Mia
Terra Mia is another Kingston upon Thames gem ideal for grabbing a slice of pizza goodness.
You'll find this authentic Italian restaurant on London Road, right in the heart of town so you don't have to travel too far after a busy day at work.
Let's face it, if it's an Italian, family-run eatery you know the food is gonna live up to the hype!
The menu is more than varied with so many pizzas to choose from whether it's the Amalfi with tomato, mozzarella, bacon, ham, egg, mushrooms, fried onions, herbs or the Napoli with tomato, mozzarella, capers, anchovies, olives and herbs.
You can even add any additional toppings for just £2 if you're not a plain jane and want to mix your pizza up a little.
Considering their famous pizza is made to order and deliciously tasting, the prices aren't half bad with a whole pizza only putting you back a maximum of £12, depending on what you order!
They also offer a range of quality wines, beers and spirits if you want to go all out and have a few tipples with your meal.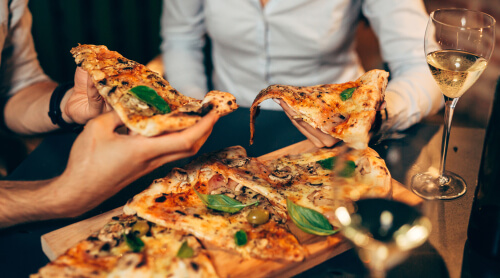 Address: 138 London Rd, Kingston upon Thames KT2 6QJ
3. Al Forno Restaurant
Situated on the picturesque riverside on Townsend Parade, Al Forno is the ultimate pizzeria for young professionals keen to get their fix on some great tasting pizza.
Is there anything better than having a nice meal out after a busy day? We don't think so! Al Forno's menu offers Neapolitan pizzas that are freshly-made, light, full of flavour and will leave you wanting to eat again and again.
If you're feeling hungry, go for their 23-inch pizzas which is perfect for you and your mates to cut up and share, or you can just opt for their regular 12-inch.
Our favourite is the Pesto and Salami pizza with pesto, mozzarella, olives, pepperoni, ricotta and cherry tomato, although there are tons of options for you to try.
A great part about eating out here is you can ask for vegan cheese if you have a plant-based diet or gluten-free options, so you won't miss out on the mouth-watering pizzas!
The prices vary depending on what you choose to scran, and whilst it's not the cheapest of places, you pay for the quality and the flavour here.
It's no wonder the restaurant received a 'Best Pizza Of The Year' award on TripAdvisor, multiple times.
View this post on Instagram
Address: Townsend Parade 1-2-3a, High St, Kingston upon Thames KT1 1LY
4. Stone Pizza
Another pizza joint which is widely popular amongst locals in Kingston upon Thames is Stone Pizza.
Perhaps what makes this place so well-loved it's handy location on Fife Street, only a stone's throw (get it?!) from Kingston Station, or perhaps it's the warm and friendly atmosphere that makes you feel super chilled.
Most of all, we reckon it's their authentic wood-fried pizzas which keep people coming back for more!
What's on the menu? Well, foodies can choose from the likes of their Hawaiian pizza with tomato, mozzarella, ham and pineapple (although it's slightly controversial).
Or, a Stone Special with tomato, mozzarella, pepperoni, chicken, ham and topped with a free-range egg. Most of their dishes are below £17, but again, it depends on your order.
If you're looking for somewhere casual and laid-back to eat after getting home from work, or if you'd rather get it to takeaway and eat in your private apartment, then this place is a must-try.
View this post on Instagram
Address: 54 Fife Rd, Kingston upon Thames KT1 1SU
5. Franco Manca
Franco Mana opened their new Neapolitan-inspired sourdough pizzeria on Clarence Street earlier this year. It has already become hugely popular amongst locals in Kingston, and we can sure see why.
Their menu features seasonally changing options as well as daily specials for you to feast your mouth on, all made with freshly baked dough and proved for 24 hours.
How does a traditional halloumi cheese, organic tomato, roasted potatoes with onions, mozzarella, marinated baby plum tomatoes with mint and seasonal pesto pizza sound? We're getting hungry just thinking about it!
Make sure to get one of their yummy sauces to dip your crust in to like their scotch bonnet chilli – as if things weren't already tasty enough.
It's proper great tasting pizza for a proper price here, as you'll never pay more than £11.
Be sure to give this place a visit, it might just become your regular eatery to hit up with your pals!
View this post on Instagram
Address: 55 Clarence St, Kingston upon Thames KT1 1RB
6. Trattoria Calabrese
Next within our guide to the best places to get pizza in Kingston upon Thames is Trattoria Calabrese.
You'll find this traditional Italian restaurant located on Coombe Road, and gheez do they serve up some mean tasting pizzas!
They perfectly combine a nice tomato base with their fresh tasting dough along and their mixture of toppings to suit everyone's taste-buds.
Will the Monte verd with mozzarella cheese tomato rocket Parma ham and Parmesan shavings be your go-to?
Or perhaps the Calzone ruspante, a folded filled pizza with tomato mozzarella ham and pepperoni sausage? Whatever you're going for, we're sure it's going to hit the spot.
Although, we doubt it'll hit your bank account cos' it's well priced for the size of the food. You won't pay more than £13 for a whole pizza, sounds good, right?
This little gem might just become your regular spot for grabbing a bite to eat.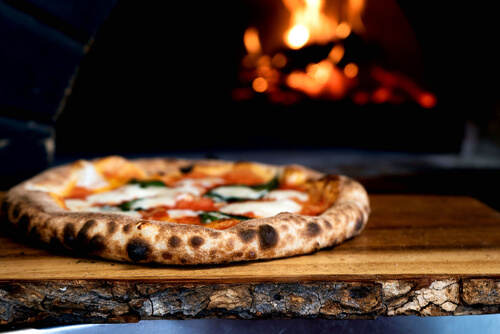 Address: 66 Coombe Rd, Kingston upon Thames KT2 7AE
7. The Cardinal Peppe Restaurant Kingston
For luxurious truly authentic Sicilian pizza, look no further than The Cardinal Peppe Restaurant.
All dishes are inspired by the tastes of Sicily and are personally created by Italian owner and chef, Peppe.
We urge you to try their Siciliana with chopped tomato sauce, buffalo mozzarella, aubergine topped with Sicilian salty ricotta.
Or munch down on their Rustica with mozzarella, Sicilian olives with stone, spicy salami, cherry tomato and parmesan cheese – mmm we need some of this in our life.
You can also ask for vegan cheese or gluten-free if you have any dietary requirements.
You'll certainly find some of the best pizzas in Kingston here, plus they offer a whole roster of tasty sides like their Rice, chips and sautéed potatoes or their Rocket, tomatoes and parmesan shavings in olive oil, if you're feeling peck-ish!
Wash it down with a couple of glasses from their extensive wine list if you fancy it.
Head on down and see what it's all about for a chilled night with friends or on a date.
View this post on Instagram
Address: 174 Tudor Dr, Kingston upon Thames KT2 5QG
8. Fireaway Pizza
Devour the tastiest pizzas at Fireaway Pizza, with fresh toppings, hand-made dough and a 400-degree fire oven, these guys provide everything you need for a massive feast.
Our favourite part about this place is the fact you can build your own pizza for just £11.95.
You get to choose your own pizza base whether it's tomato, BBQ, pesto or garlic, then choose your cheese, meat, vegetables, and any dressing to top it off.
Say goodbye to having to stick to what's on the menu, you've got the pizza power!
If you don't wanna build your own pizza cos' it's too much effort, they also offer signature pizzas like their BBQ Boss, Burner and Meat Head.
Dreaming of mouth-watering sides? They offer crispy chicken strips and cheesy garlic bread to name a few.
If somehow, you're still fancying more (It's always good to treat yourself) they offer some amazing milkshakes and desserts too.
Located on Richmond Road, they're located just a short walk from the riverfront.
View this post on Instagram
Address: 63 Richmond Rd, Kingston upon Thames KT2 5BP
So, if you're looking to track down some cracking pizza places in Kingston upon Thames, you've got plenty of options to try out.
Get out there and cheese the day – get it?!
If you're looking for a co-living accommodation in the heart of Kingston upon Thames, view our One Living properties and get your ideal living space sorted!
Are you suffering from winter burnout? Have a read of our post for tips and tricks to help you out.