It's no doubt that boring soggy sandwiches for our lunch at work can get a little monotonous – right?
Believe it or not, there are actually plenty of easy healthy packed lunch ideas that require minimal effort. The best part? They're extra yummy, and nice and nutritious too, what a winner!
So without further ado, wave goodbye to the same old ham and cheese sandwiches, and hello to a fresh new meal plan. Let's take a look at 5 easy healthy packed lunch ideas for work that will have you drooling!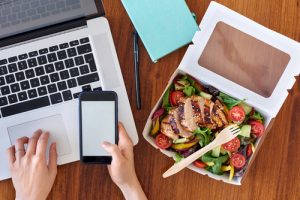 1.  Sesame Chicken Noodles
We bet you didn't think you'd be filling your Tupperware with this delicious sesame chicken noodles recipe – did you?
This is one of our healthy packed lunch ideas that's bound to brighten up a gloomy Monday, with bags of flavour.
Ingredients:
1 tbsp tahini
1 lime, juiced
2 roasted garlic cloves
2 tsp soy sauce
1 tsp sesame oil
½ tsp chilli flakes
200g cooked rice noodles
200g leftover roast chicken or packeted cooked chicken
1 roasted aubergine
1 carrot, grated
½ cucumber
½ small pack of mint
Method:
 Whisk together your tahini, soy sauce, lime juice, flesh from the roasted garlic sesame oil and chilli flakes in a large bowl.
Add enough water to make a nice creamy dressing.
Grab your noodles, chicken, aubergine and carrot and make sure you toss everything together to combine.
Gently fold through the cucumber and mint and divide into two Tuppaware dishes.
Finally, sprinkle over some extra chilli flakes if you want a bit more spice to add a kick to your Monday afternoon!
Click here for the full recipe.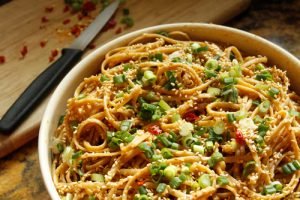 2.  Coronation Chicken Salad
This is a salad with a twist, because let's be honest, sometimes salads can be a bit boring…but not this one!
With a bit of a kick to the dressing and plenty of zest from the lemon, this coronation chicken salad is bound to tickle your taste buds.
Ingredients:
3 tbsp low-fat Greek yoghurt
1 tsp curry powder
1 tsp mango chutney
½ lemon, zested and cut into wedges
250g pre-cooked grain pouch
150g leftover roast chicken
2 roasted red onion
1 large courgette
1 small pack of coriander
1 tbsp flaked almonds
Method:
Mix together your yoghurt, curry powder, mango chutney and lemon zest with some seasoning in a big bowl.
Add your grains and break them up with your fingers as you go!
Next, add your chicken, onions, courgette, and most of the coriander.
Now you need to give everything a good stir and once again, divide everything between two containers.
Get your remaining coriander and sprinkle it over the salad, as well as some flaked almonds.
Nestle a lemon wedge in each lunchbox and you're good to go!
Click here for the full recipe.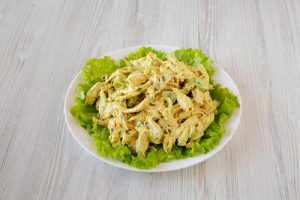 3.   Lemon & Coriander Hummus
Not quite in the mood for a big lunch? Perhaps you had a big breakfast before you left for the office?
Fear not! This lemon & coriander hummus is just enough to fill you up, team it up with some peppers/carrots or pitta bread to dip and you'll be loving it.
Ingredients:
2 cans of chickpeas in water, drained
2 garlic cloves, chopped
3 tbsp Greek yoghurt
3 tbsp tahini paste
3 tbsp extra-virgin olive oil
Zest and juice of 2 lemons
20g pack of coriander
Method:
Put everything in a blender other than the coriander and whizz until its nice and smooth.
Next, season the hummus and add in the coriander, pulse until it's roughly chopped.
Spoon into a serving bowl (or Tuppaware) drizzle with oil and serve!
We'd recommend pairing this up with some freshly chopped pepper, pitta bread of carrot for some crunch.
Click here for the full recipe.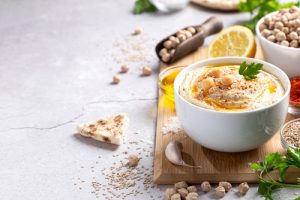 4.    Stuffed Moroccan Pitta (perfect for vegetarians!)
Want another one of our healthy packed lunch ideas? This stuffed Moroccan pitta is bound to hit the spot and is much more exciting than a cheese sandwich that's for sure!
The best part? It's incredibly easy to make and can be sorted out the night before or the morning of your shift.
Ingredients:
2 wheat-free pitta bread pockets
4 falafels (halved)
4 tbsp hummus (use the hummus recipe above!)
½ red pepper, deseeded and sliced
A handful of rocket leaves
Method:
All you need to do is spread the hummus on the inside of each pitta first.
Next, layer the pitta with the falafels, pepper, and rocket.
Season and dig in!
Click here for the full recipe.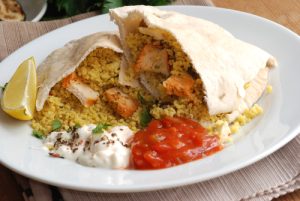 5.   Spicy Avocado Wraps (another vegetarian option!)
Wanting to add some #spice to your weekday lunchtime? Anything to make your week at work a little more interesting, right?
This vegetarian-friendly meal is bursting with flavour and plenty of garlic (so maybe keep some chewing gum handy)
Ingredients:
500g pack Quorn style chicken sliced at an angle
The juice of a lime
½ tsp mild chilli powder
1 garlic clove
1 tsp olive oil
2 seeded wraps
1 avocado (halved and stoned)
1 roasted red pepper (from a jar, or you can roast it yourself!)
A few sprigs of coriander
Method:
Mix the chicken style pieces with the lime juice, chilli powder and garlic.
Heat the oil in a none-stick pan and fry the pieces for a couple of minutes.
Warm the wraps as per packet instructions!
Squash half of the avocado onto each wrap.
Add your peppers to the pan and warm them through then get your chicken pieces and put them in the wrap.
Put all the other ingredients into the wrap, sprinkle over the coriander, roll up, cut the wrap in half an enjoy!
Click here for the full recipe.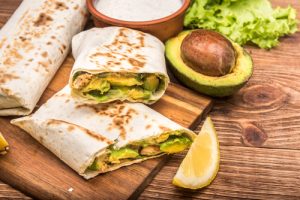 See, our healthy packed lunch ideas are pretty yummy, aren't they? Believe it or not, lunch is a super important part of your day, it gives you a chance to refuel, recharge, and enjoy flavours! So why not treat yourself next week and ditch the boring soggy sandwiches for good.
We hope you found our recipes useful, and we'll be back again soon with some more.
Check out our co-living accommodation for the ideal setup for young professionals.