With a new year comes the need for a brand new desk, right? If you're on the hunt for some accessories to jazz up your office setup, be sure to check out our guide.
We know, it can be overwhelming to find the best desk accessories but that's where we come in handy!
Trust us, as a young professional you won't want to miss out on these cool desk accessories, everyone will be super jealous and you'll get the productivity flowing in no time…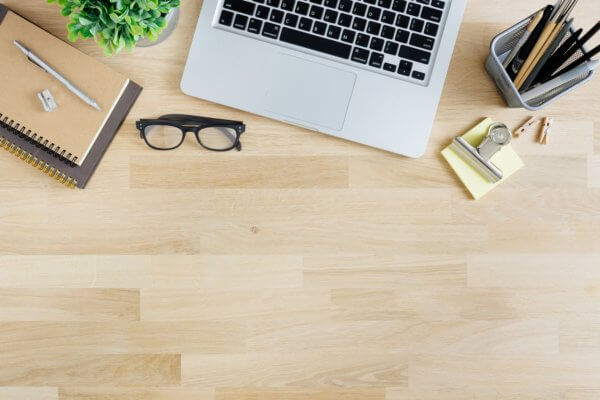 1. Headphone Stand
If you frequently have to take calls as part of your job, a headphone stand could be a helpful accessory to add to your desk.
Not only are they great because they stop your headphones from getting tangled (if you still wear wired ones of course) but they will jazz up your working space.
This accessory is essential if you don't have the luxury of working from home and have to pop your headphones in to answer work video calls.
You can get absolutely tons of different types of headphone stands, but we like this Rock On one from MenKind especially – it's only £20 too!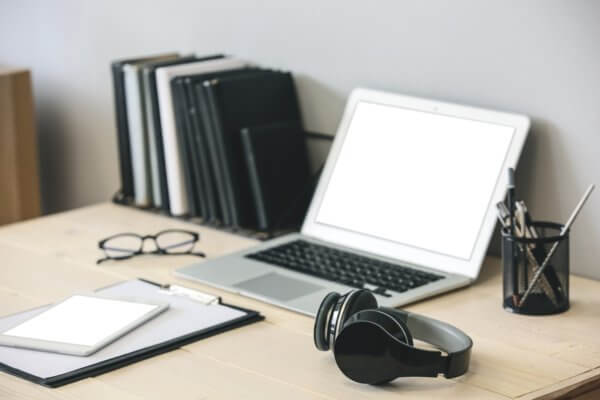 2. Laptop Stand
Laptop stands improve your posture and help to reduce back and neck strain, so if you haven't got one for your desk setup already, be sure to invest in this accessory.
They can also help to reduce eye strain due to blue light exposure from your laptop screen and ensure good posture so there's tons of benefits.
There's a variety of different laptop stands available to suit everyone's preferences, sizes and budgets, with Amazon offering a range of affordable items so you can be comfy in or outside of the office when working.
If you work on a computer don't worry, you can get a monitor stand with height adjustment!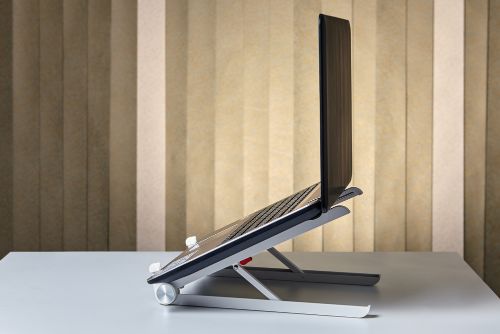 3. Wireless Charging Pad
Another accessory which is a must-buy for your home office setup is a wireless charging pad.
If you're someone who likes to keep their phone next to them when working, perhaps you need to answer calls or you just like to take a little break to have a scroll, be sure to invest in one of these bad boys.
They're super convenient because you can charge from anywhere, so if you've already got tons of things plugged in at your desk, you don't need to worry about clutter!
One charger can also power multiple devices which is a winner, there's lots available but we'd suggest heading on over to Ikea to take a look at their accessories.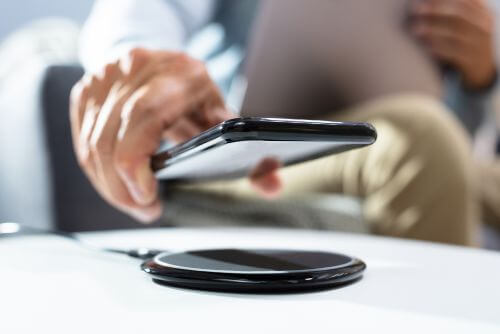 4. LED Desk Lamps
This next accessory may not be super original, but LED desk lamps are essential for your workspace.
After all, if you're like us and hate working in a room with the big light on, these are a godsend!
Brighten up your desk space and reduce eye strain and fatigue by buying a nice lamp.
Argos offers an extensive range of LED desk lamps to suit everyone's personal style, make sure to take a look now and jazz up your desk for the new year.
You can even get some which are touch control so you can dim the light settings with the touch of a button!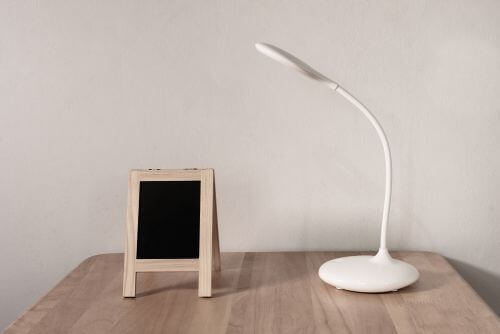 5. Wrist Rests
Creating a comfortable work space is just as important as ensuring that it's professional in appearance, as this will improve your productivity and reduce the likelihood of injury or fatigue.
If you haven't done so already, you need to add a wrist rest to your desk setup.
Have you noticed that your hands start to hurt after typing on a keyboard for too long?
Well, this accessory is designed to stop strain on your hands when typing.
If you're really looking to jazz up your desk (who isn't) then shop for unique, handmade and personalised wrist rests on Etsy – they don't have to be boring looking!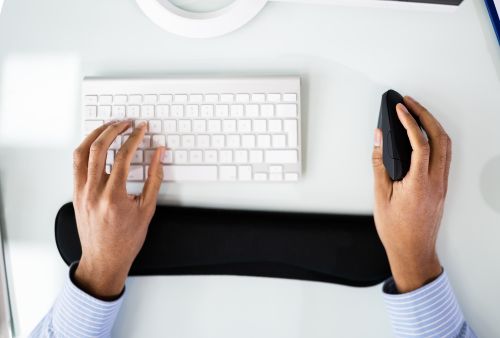 6. Desk Plants
Desk plants? Now we're talkin'!
Plants make anything look good if you ask us, but there's also many other benefits that come from adding some succulents to your working space.
Such as, plants can improve air quality, reduce stress levels, reduce fatigue and improve attention levels to name a few!
If you're not very good at remembering to water your plants why not invest in a cactus which barely needs watering?
Or, get a fake plant if you're just looking for something to make your desk have those all-important cute vibes.
We'd recommend heading over to Urban Outfitters to see their range of desk plants – they even come with their own plant pots.
You don't need to stop at one plant, get a few if you have some empty space to fill at your work space, or within your home office.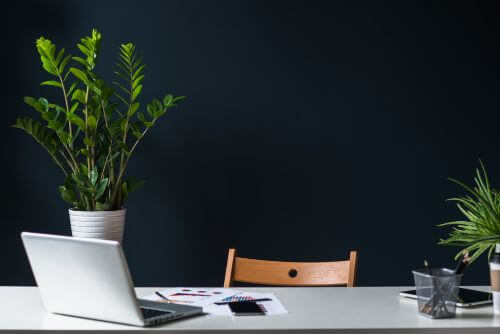 7. Desk Organiser
If your desk tends to be pretty messy and lacking some proper organisation, buy yourself a desk organiser to keep everything tidied away in one place.
All your items and stationery will be in an organized manner and easy to find with this desk accessory.
There's loaaads of different styles of desk organisers, depending on which tickles your fancy.
Some places even offer personalised desk organisers so you can stick your name on it – ooo luxurious!
A great place to shop for a desk organiser is Wilko.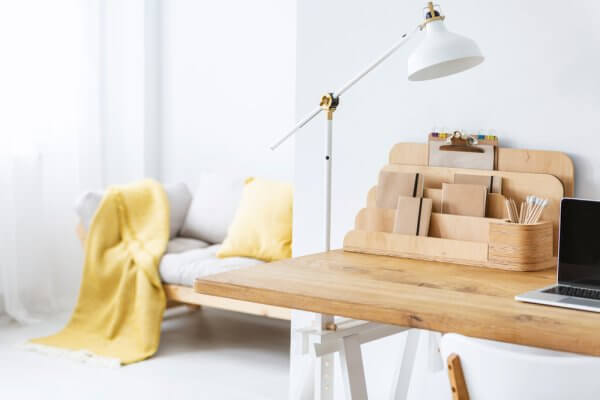 8. Mini Fridge
A mini fridge may be the most unusual of our desk accessory suggestions, but if you're like us and like to snack to keep you going through the working day, then this item is a must.
If you work from home and frequently take trips to the fridge, or perhaps you often head over to the office kitchen, this way you won't get distracted on your travels and will have food and drinks at your disposal – right at your desk!
You don't need to splash the cash as there's mini fridges available for reasonable prices, and if you ask us, they're worth spending that little bit more.
The only thing is though, they can be pretty loud so you may have to pop your headphones in if you purchase one.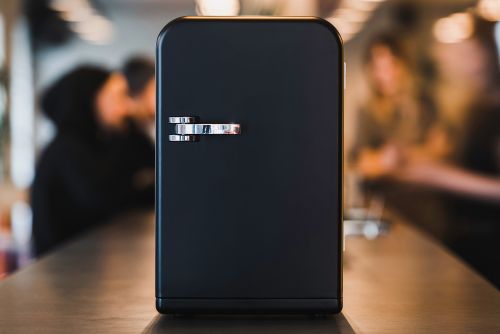 9. Desk Pad
Next within our blog of the best accessories for your workspace is a desk pad.
If you work within an office environment, and don't want to damage your desk when writing, placing down drinks or any other wear and tear, desk pads are great.
They also look aesthetically pleasing and are affordable if you're not looking to spend lots of money on jazzing up your desk.
Plus, most desk pads are anti-slip which means that they won't move when you're working away.
Don't worry, they're easy to remove so you don't need to worry about leaving any marks on your desk – what're you waiting for?!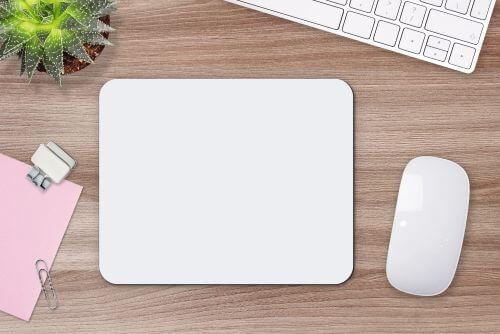 10. Humidifier
Perfect your home office desk with a humidifier – we know, another unique choice!
This next desk accessory is ideal for the winter months when the air is much drier, as they can help reduce cold and flu symptoms like runny noses and cracked lips.
This will boost your overall comfort when trying to focus on the task at hand, so get a mini desktop humidifier now.
There are a range of choices available online to add a stylish vibe to your desk.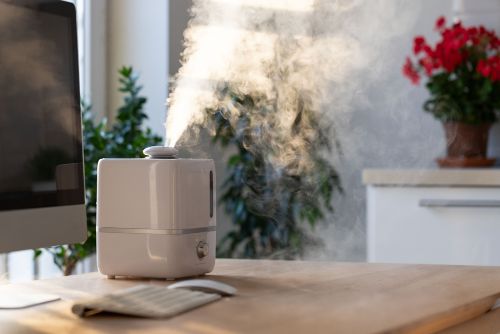 There's no question that these desk accessories are an absolute must have to jazz up your desk and keep it stocked up with useful bits and bobs.
So, go out there and purchase these 10 best desk accessories or let us know about any other suggestions for your office setup @weareoneliving.
Here at One Living we have purposely designed living spaces in cities across the UK to suit your lifestyle and budget – take a look now!
Do you struggle to unwind after being at work all day? Check out our guide with 8 tips on how to chill after a busy day at work.