The world of work has changed drastically over the last couple of years with more and more people working remotely in various different industries. Despite being popular before the pandemic, it has evolved even more since then. 
With positives like a better work-life balance to creating your own schedule to increased productivity to less money being spent commuting to your place of work and so forth, there are so many reasons why people are opting for a remote working approach. 
That being said, remote working isn't without its disadvantages either so it's important you get to grips with both the pros and cons before taking the leap.
Thankfully, we've done our research and put together this post to help you out!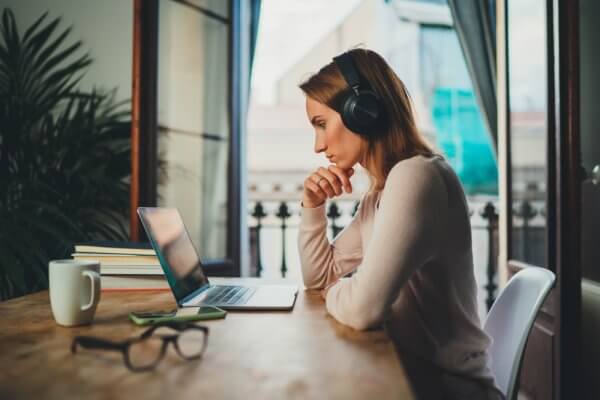 What Types Of Remote Jobs Are There? 
Due to advancements in technology, there are now so many different types of jobs which can be carried out remotely. 
In essence, a remote job is one where an employee can complete their day to day working tasks without needing to be in an office, whether it's in their home, a library, a cafe or another space. 
With studies suggesting that around 20 million people in the UK work remotely at least some of the time, it's safe to say there is a huge list of work from home jobs out there. 
Among the most popular of remote positions include copywriting, web development, graphic design, accountancy, marketing and so on! 
If you're on the hunt for a job with remote working possibilities, carry on reading to discover the pros and cons. 
Pros And Cons Of Working Remotely 
Are you considering working remotely?
Below we have listed some of the pros and cons of this style of working for employees so you can see whether it would be a good fit for you or not! 
1. Better Work-life Balance 
A good work-life balance is all about ensuring you have enough time for working and other aspects of your life, whether spending time with family and friends, enjoying hobbies and interests as well as having enough time to eat and sleep well. 
Having the ability to work from the comfort of your own home means that you will have a healthy work-life balance as less time is spent commuting to and from the office. So, after the working day is over, you can log off and crack on with non-work related activities! 
Working from home can be great and allow you more time to spend focusing on other areas of your life, but it's also important to separate your workspace with your home space.
If you work from your bedroom or living room for example, you may have a tendency to still feel like you're working. So, it's important to try and have a dedicated office space if you're able to.
2. Increased Productivity 
Working remotely allows employees to focus on their tasks without office distractions whether it's socialising with others, dealing with annoying colleagues, or having distractions from background noise within the workspace. 
Instead, working from your home means you can create an environment to suit you and really get in the zone of working. 
If you're someone who prefers listening to music to get you through the working day, or you're someone who focuses best in silence, you can tailor your workspace to suit you, without having to think about what your colleagues prefer! 
Working from home means you can take more breaks without worrying about being scrutinised for being away from your workspace too often, which can also increase productivity. 
3. Can Be Less Costly 
Working remotely means you don't have to worry about getting to and from work whether it's spending money on petrol, paying for public transport or even paying parking costs, meaning you will be able to stretch your budget further.
Not only will you cut costs on commuting, you will also save money due to not having to buy lunch for the office and you don't have to buy workwear as you can wear whatever you like (just make sure not to wear pyjamas during important work calls). 
All of these costs here and there add up over time, so working from home can be a budget-friendly option. 
On the other hand, there are other costs to factor in, such as, your utility bills and broadband expenses may increase when working remotely rather than within a traditional working environment. 
Working from home also requires you to use certain equipment and tools to carry out your job such as a webcam, headset, desk and chair and so on, which can become costly. 
So, make sure you factor in the added technology costs to your budget if you're considering a remote role! 
4. More Flexibility 
One of the biggest perks of remote work is that you have more flexibility within your day-to-day schedule. 
Remote jobs also offer more flexibility within your life as you're able to fit in appointments or other commitments like picking your children up into your schedule. 
For example, if you have a dentist appointment in the morning, you can log out for an hour, or go and pick your kids up from school at the end of the day, whilst still being able to complete the tasks at hand.  
The schedule of a remote employee can vary though, as some workers can choose their working hours rather than stick to the traditional 9-5 schedule, whilst other at home roles do require employees to stick to set hours. 
Such as, a freelance worker is their own boss meaning they can complete their tasks on their own time, but if you're working for a company, you probably won't be able to login and log off whenever you choose, you do need to be available through the day. 
5. Lack Of Face To Face Connection 
Our next point depends on whether you're an introvert or an extrovert, as if you're an introvert you may enjoy the peace and quiet of working from home and not having to socialise with other colleagues. 
Although working from home all of the time can become lonely even if you're someone who prefers less social interaction, so it's important to take care of your mental well-being. 
On the flip side, if you're an extrovert then working from home may be less favourable as you cannot build a workplace social life. If you thrive in social settings, you may find that the work home life is not for you!
It's not just personal connections that can be impacted either, a con of  this working arrangement is that it can also impact your professional connections too. 
This is due to the fact that you don't have any face-to-face connections with your colleagues or management. 
When WFH, you can't just walk over to your colleagues desk to ask a question, and it can feel daunting to message or email colleagues numerous times, especially during the onboarding process. 
However, through the use of video calling technology and a good communication strategy, the issues associated with a lack of face to face interaction can be resolved! 
6. Harder To Stay Motivated
Whilst working from home has become increasingly popular, a drawback of this option is that it can be harder to stay motivated for a number of different reasons.  
Your productivity and motivation levels can take a dip depending on your home environment as you may get distracted from other people, your pets, your TV, your fridge, your phone notifications or even the postman delivering your mail. 
There are things you can do to overcome this and be your own motivator though, such as by dressing as you would for an actual office day, completing your tasks within a dedicated workspace, creating a routine for the day and limiting interruptions! 
Similar to working within an office environment, there are positives and negatives of this work arrangement so it's important to take the point's we've discussed on board and do your research if you're considering working remotely. 
It could be worth looking into roles which offer a hybrid working approach, allowing both in-office and at home working, so you get the best of both worlds. 
Regardless of whether you're yay or nay about remote working, one thing is for sure, it's definitely here to stay! 
Are you a young professional on the hunt for the co-living accommodation of your dreams? View our properties in locations across the UK! 
Read next: Wanting To Change Careers? Here's Our Tips And Tricks.