After a long day at work there's only one place other than your professional accommodation that you'll want to head to, drum roll please…the pub of course!
For those of you living in Reading, we've put together this guide revealing the top 10 pubs to visit, with each offering something different.
Whether you're looking for somewhere to go for a pub quiz and a few mid week pints or if you're on the hunt for somewhere to knock back the drinks until the early hours on a Friday night, we're sure you'll find your regular boozer in no time at all!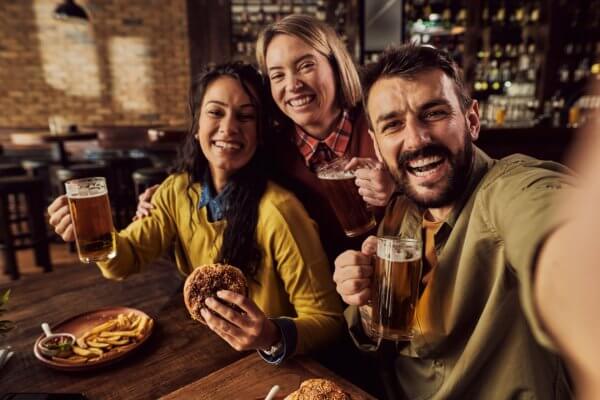 1. Oakford Social Club
Do you really live in Reading if you've never visited the Oakford Social Club?
The Oaky is one of the most popular pubs in the town and for good reason!
If you somehow don't have a clue about this boozer, then get in the know.
Situated on Blagrave Street just next to Reading Train Station, this pub offers craft beer, cocktails, traditional pub grub, live music, pub quizzes and great outdoor spaces.
If that wasn't enough, they're open 6 days a week until late and you can order through their app straight to your table so you don't even need to get up (ideal if you're tired after a busy day).
For that all-important scran after a few pints, we'd recommend giving their Ruby Jean's burgers a go – they're banging!
View this post on Instagram
Address: Berkshire, 53 Blagrave St, Reading RG1 1PZ
2. Monks Retreat
Monks Retreat is a traditional pub located on Friar Street in the heart of Reading town centre.
It's the ultimate spot for enjoying some drinks with your mates and watching the latest sports showings with multiple TV screens and booths to choose between.
Whether it's spirits, pints or cocktails you're after, this pub is the place to be with deals on every day of the week.
We all know how draining Monday's can be, which is why you need to make the most of their 'Pub fave and drink' deal which includes a tasty dish and a drink of your choosing for just £6.49.
If you're feeling fancy, their 2-4-1 cocktail deal is top notch with two of the same cocktail for the price of one.
This is the perfect place to sit back and chill after a busy day, just don't go on a match day if you're not a sports fan – it's chock-a-block!
View this post on Instagram
Address: 160-163 Friar St, Reading RG1 1HE
3. O'Neill's
O'Neill's is a seriously good pub you don't want to miss out on whilst living in Reading.
This pub is another boozer located on Friar Street so you don't have to mooch far for a great beer and friendly welcome.
You'll be guaranteed a good pint of Guinness at this Irish bar, and it's not just good drinks you'll get either as the food is delicious.
We're talking breakfast, lunch and dinner so no matter when you're feeling peck-ish, head on down.
There isn't anything better than singing-along to live music down the pub, is there?
Thankfully this place doesn't shy away from the craic with regular performances throughout the week and late-night openings.
They even offer bottomless brunches if you fancy free flowing drinks!
View this post on Instagram
Address: 4 Friar St, Reading RG1 1DB
4. The Three Guineas
It's not just the name of this Reading pub that we love, the vibes are simply unmatched!
Situated at Station Approach, The Three Guineas couldn't be more conveniently located if it tried, which is ideal for young professionals who travel home by train.
This place offers a buzzing range of craft beers, ciders, wines, spirits, the list goes on.
If you don't want to cook and would rather enjoy some post-work pints and a bite to eat (duh, of course!) then they also serve up delicious British dishes.
Although, if you're looking to stretch your pennies a little further, this pub is on the more expensive side, especially for food.
Get yourself down and see what it's all about, the outdoor seating is a real bonus during the warmer months!
View this post on Instagram
Address: Station Approach, Reading RG1 1LY
5. The Boundary
Nestled on St Mary's Butts this pub is somewhere you simply have to go to if you've just moved to Reading.
The Boundary is a friendly hangout spot with a focus on craft beer and cocktails, as well as a huge array of gins to choose from.
Be sure to give their gin of the month a try and seasonal favourites when you take a visit.
If you're someone who loves a game of pool then there's plenty of tables to get involved and show off your skills.
Or, just sit back and watch upcoming sports showings on the HD screens.
There's even individual booths to watch games with your pals.
After quenching your thirst, if you get hungry be sure to check out their menu with LOADS of tasty foods to choose from whether it's stone baked pizzas, burgers, topped fries or chicken wings you're craving.
What makes this pub extra special is the lively atmosphere, plus you'll meet some furry-friends as it's dog friendly – bring down your pooch!
View this post on Instagram
Address: 21-23 St Mary's Butts, Reading RG1 2LN
6. The Greyfriar
You're not going to want to miss out on The Greyfriar whilst living in Reading.
You'll find this slice of Reading pubs on Greyfriars Road, with such a local feel to this place you'll love it as much as we do!
This place has you covered if you're a beer lover, with craft beers from local and independent breweries, along with knowledgeable staff who are happy to help if you're unsure on what to order.
They do serve up spirits as well with over 40 different types of speciality gins to choose from, so no matter the tipple you're wanting, we're sure you'll find something!
If you weren't already sold, there's also darts and board games to keep you entertained.
View this post on Instagram
Address: 53 Greyfriars Rd, Reading RG1 1PA
7. The Hope Tap
When it comes to Reading pubs, you can't go wrong with The Hope Tap, it's a Wetherspoons so the prices are more than affordable for those post-work chill out sessions.
You'll already know how varied Spoons drinks menus are, with literally all the usual selection you could want whether it's cocktails, pints, spirits, pitchers, you name it, they've got it.
There's so many food and drinks deals on every day of the week that both you and your bank account will be buzzing!
The thing about this pub in particular though is that it's literally huge so you'll always be guaranteed a seat and there's an outdoor courtyard area which is a sun trap in the summer.
If you're wanting to be in and out quickly for that much-needed pint, order through the app for quick and easy service – it's a winner!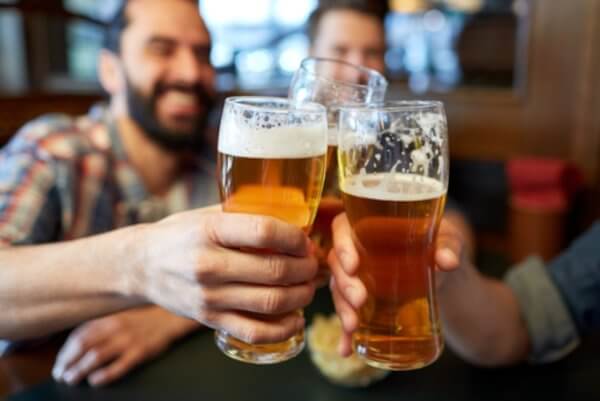 Address: 99-105 Friar St, Reading RG1 1EP
8. The Allied Arms
No matter if you're heading out for a wind down after a mid week working day, a fun-filled Friday or even a hangover lunch and a pint on a Sunday (hair of the dog, duh), this next Reading pub has you covered for all of the above!
The Allied Arms can be found on St Mary's Butts, based right in the centre of town.
Whilst it may be smaller than most, this family-run pub gives off the most wholesome vibes and is everything you could want from a boozer.
Boasting olde worlde interiors, cosy seating, a varied drinks menu and a picturesque beer garden, you'll be glad you found such a perfect little spot for drinking once you take a visit.
Be sure to get involved in their pub quiz which takes place every other Wednesday.
Although these folks focus on the quality of their drinks rather than serving up food, they do offer some nice bar snacks if you're a little hungry.
View this post on Instagram
Address: 57 St Mary's Butts, Reading RG1 2LG
9. The Butler
A strong contender to our list of pubs in Reading is The Butler.
Situated a little further afield from the busy town centre on Chatham Street, this drinking destination is one to add to your list if you love to sing along to live music – who doesn't?
British pubs don't get much better than this with live music showings every Friday and Saturday with the best local artists in Reading.
Sip on a few drinks, have a laugh with some mates and dance away to the tunes!
In terms of tipples, they serve up local real ales and a variety of spirits for you to decide upon.
If going home and cooking after drinking ain't your style, there's even some tasty Caribbean food on the menu here.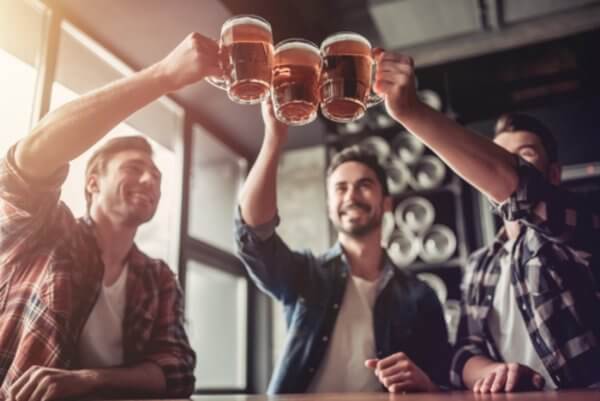 Address: 85-91 Chatham St, Reading RG1 7DS
10. The Hope & Bear
If you're milling about Reading then make sure to head on over to The Hope & Bear, it might be a little out of the way but trust us it's worth it.
This vibrant drinking destination is full of character and is ideal for late-night tipples with your friends.
Choose from a great selection of food and drinks to enjoy in front of the roaring fire, perfect for those cold evenings in winter!
For when the weather does get a bit nicer, this place has not 1 but 2 beer gardens so you're spoiled for choice.
In the mood for some good food? They offer a menu of traditional British pub classics for you to treat yourself to.
Another noteworthy mention is that their menu includes a huge array of non-alcoholic and low alcohol options too for those designated drivers.
View this post on Instagram
Address: Berkshire, 153 London Rd, Reading RG1 5DE
As you've discovered, Reading's pub scene is unmatched with plentiful boozers to head to when you're not busy working.
Now you're ready to kickstart your pub crawl, which one of these places are you going to head to first? Luckily they'll only be just a short walk from your co-living accommodation in Reading!
If you're looking for alternative things to do rather than hitting the pub, read our guide on 8 Tips To Chill After A Busy Day At Work.