Summer is in full swing so it's only right that we put together a guide to the top beer gardens to visit in Preston. Who doesn't want to enjoy the hot weather with a pint chatting with their friends? It really is one of the simplest pleasures in life. Keep reading to know exactly which venues to go to in the Lancashire city.  
We've put together a list of the pub gardens you just have to go to so that you can have have the best summer vibes. From the biggest spaces to the best drinks deals, to the best entertainment – we've got you covered.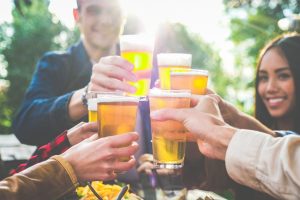 1. Once Was Lost
Once Was Lost is a unique bar and restaurant located in the city centre between Market Street West and Friargate. It's an absolute gem of a venue. The spacious courtyard and garden area are nicely decorated with outdoor heaters, live music showings, cute lighting and tons of seating options with umbrellas. They're dog friendly so you can meet some fury friends. 
Choose from a large selection of cocktails, craft beers and wines. Did we mention, they also have two for one cocktails all day every day – it can't get much better than that! Their Lationo inspired menu is veggie friendly so you can enjoy some lovely bites to eat if you're feeling hungry too. 
Why not bask in the Preston sunshine and make the most of Once Was Lost's beer garden? 
View this post on Instagram

Address: 131 Market St W, Preston PR1 2HB 
 2. The Continental 
The Continental is an independent pub which has the ultimate beer garden with great views of the River Ribble and is right by the Avenham and Miller Parks. Enjoy a few drinks with your mates and listen to some great tribute acts as they have live music events on!  
Their beer garden is jam packed on sunny days and we're not surprised, they have a great range of cask ales, beers and ciders. Or, if you're fancying some food, they have a range of plates to choose from.  
It's the perfect place to go and unwind whilst you have some free time away from work. We guarantee you'll love it as much the locals do!  
View this post on Instagram
 Address: S Meadow Ln, Preston PR1 8JP 
 3. The Guild 
The Guild is one of the biggest beer gardens in Preston to you don't have to worry about finding a seat. Although, on a sunny day or match day it does get busy. They have live sports showings, pub grub, cheap drinks and the Greene King app so you can order straight to your table. You don't have to worry about cutting those convos short when it's time to go to the bar! 
This pub is a staple of day drinking in Preston with a fantastic outdoor area. Enjoy a cold drink in the sun in this boozer with a few of your closest pals or go for after work drinks with your colleagues. Whatever it is, you'll sure be visiting again and again.  
View this post on Instagram

 Address: 99 Fylde Road, Preston, Lancashire, PR1 2XQ 
 4. The Orchard Craft Beer Bar
The Orchard Craft Beer Bar is a hidden gem located in Preston's Market Hall. You can choose from a great selection of beers (of course), ciders and gins. Being one of the only dedicated Craft beer bars in Preston, if you're into trying different beers then this place is definitely for you. You can try different beer samples to see which one you fancy too!  
Despite being quite small with limited outdoor seating, it's still for sure a great beer garden to visit. If you're doing some shopping its ideally located in the heart of Preston city centre so, you can have a few pints when you're done. Let's not forget, the beer prices are very reasonable, so you won't be forking out loads to have a brew in the fresh air. 
View this post on Instagram
Address: Unit C, Market Hall, Earl St, Preston PR1 2LA 
 5. The Wellington Inn
 The Wellington Inn or 'The Welly' as the locals call it, is a great terrace end pub in Preston city centre. It's a family-run pub with such a friendly atmosphere along with a selection of hand-pumped ales and craft gins to choose from.  
Whether you're catching up with a group or friends or going for a few drinks with your partner, their beer garden won't disappoint. There's always a buzzing atmosphere at this quirky pub and their drinks deals are top notch.  
They also show Sky and BT Sports showings if you're want to keep up to date with the latest games. What're you waiting for?! Go see it for yourself. 
View this post on Instagram
Address: 40 Glover's Ct, Preston PR1 3LS 
 6. The Adelphi
 The Adelphi is a lively pub located in the University of Central Lancashire campus and is popular with both students and locals within Preston. It's a fab place to hang out no matter what time of day it is, as they're open from breakfast until late.  
The pub's brand-new beer garden was newly refurbished just last year so there's a modern vibe to the interior. It's decked with TVs at each booth, pool tables and tons of seating. Have a few cocktails with your nearest and dearest whilst catching some rays in the terrace area. They even have a Shrek cocktail currently on the menu!  
When you start to get a bit peckish enjoy a variety of street food dishes on the menu. You'll never want to leave with cheap drinks and equally good food offers. 
View this post on Instagram
Address: 43 Fylde Rd, Preston PR1 7DP
7. The Black Bull
 Despite being a bit far out from the centre of the city, The Black Bull is a pub with one of the biggest beer gardens in Preston. This local pub in Fulwood is a great place to visit with friends, family or your significant other. Their garden is great to relish in with a cocktail or a cold pint. Plus they have a new drinks menu with fruity cocktails and new flavoured spirits – mmm!  
The outdoor tables have umbrellas so if it does start to get cloudy or rainy, like the weather does up North, then don't worry you're covered. After a few beverages, have a lovely roast dinner if you're up for it or explore the menu of other classic pub dishes to tickle your tastebuds.  
View this post on Instagram
Address: 315 Garstang Rd, Fulwood, Preston PR2 9UP 
8. The Plungington Hotel
The Plungington Hotel has a beer garden which is second to none with sheltered seating and a large grass area. You can sip on some bevvies and kick back and relax on a deck chair when the weathers nice in the former bowling green. It's great for a drink in the summer evening with their cute décor and lighting – what better way to watch the sunset?  
The pub even do BBQ's during the summer months and have a menu of British dishes to choose from when you're feeling like a bite to eat. If you're more concerned about the drinks, there's a range of refreshing liquids to choose from like spirits, beers, ciders, wines, gins, you name it! They've got it.  
Add it to your list of the top beer gardens to visit in Preston, you won't regret it.  
View this post on Instagram
Address: Lytham Rd, Fulwood, Preston PR2 3AR 
Sorry to be the bearer of bad news but you've reached the end of our top 8 beer gardens to visit in Preston. How many are you going to add to your bucket list? Have a good one wherever you go guys.  
We think you'll love our post on Summer Office Clothing You Just Need In Your Wardrobe. 
If you're after a student studio or shared flat, here at One Living we've got you covered. Explore the properties we have in locations across the country.