Working a 9-5, Monday – Friday, can be a tough slug, but having something to look forward to midweek can give you the serotonin boost you need. Why not spread the word through Teams and organise some after-work drinks with your colleagues? Socialise away from the office can be a great way to form bonds with people you work with and talk about something other than the next project you have coming up.
If you've walked the lengths of Guildford before, you'll know that this quaint town is completely littered with pubs to visit. You're spoilt for choice and will never have to compromise to suit one work friends needs.
Need some inspiration of where to visit? Make sure to check out our list of the top pubs in Guildford and book your next night out here now!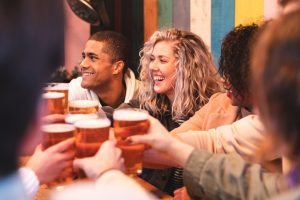 1. Star Inn
View this post on Instagram
The Star Inn is one of Guildford's longest running live music venue. Designed with traditional oak flooring and memories scattered all over the walls, you'll find yourself captivated once you step foot into the front door.
This particular pub in Guildford has been entertaining guests for over 400 years, highlighting it's prominence in the Guildford pub scene.
If you're on the hunt, you can find the Star Inn just off the High Street, the perfect location if you're working within the town centre.
It's renowned by both locals and tourists for its excellent weekly events, hosting upcoming artists names in the surrounding area. You can guarantee yourself a brilliant night, filled with drinking, dancing and singing if you end up here after work!
2. The Kings Head
View this post on Instagram
The Kings Head is a 16th century pub, offering a selection of great food, tasty drinks and maybe a side of ghouls and ghosts…well, maybe not but it definitely is slightly haunted.
Having been built back in the 1500's in the traditional manner using timber beams, it's been long standing for many years and loved by all who visit.
It's home to a brilliant beer garden, ideal for basking in the sunshine during the summer months! Think about it, a pint in one hand, sunglasses on your face and the sun beaming on you after a hard days work…a dream – right?
In terms of its drinks menu, you can treat yourself to a varied selection of 6 real ales, wine, spirits and even a cocktail menu!
3. The Britannia
View this post on Instagram
Nestled next to the River Wey, The Britannia is in an enviable location and offers stunning views of the surrounding area (especially in the sunshine!).
This award-winning riverside pub is renowned for its delicious food, high quality selection of drinks and family-friendly hospitality.
Looking to grab a bite to eat? You're in luck. This popular pub has a kitchen dedicated to serving some of the top dishes around. From Beetroot & Goats Cheese Tortellini to a Beef, Ale & Onion pie, there's so much to choose from and suitable for all tastebuds.
What makes it even better is it's got parking right outside, making it super convenient if you're popping here for a meal with your work pals.
4. The Weyside
View this post on Instagram
Similarly to its predecessor in this list, The Weyside is another exceptional riverside pub in Guildford, and can be found just a stones throw away from the cobbled High Street. Prepare to be captivated by the exterior of this magnificent pub, and would you believe it if we said the inside is no different?
From floor to ceiling, this pub in Guildford has been carefully designed for you to drink and dine in style. Expect a converted barn feel with powerful oak beams, comfortable seating and wooden accents throughout.
Looking to delve into a tasty dish whilst socialising with your work friends? The Weyside boasts the best of fresh, British, seasonal dishes and a Sunday Roast to get your taste buds tingling.
For after work drinks, this should certainly be near the top of your list.
5. The March Hare
View this post on Instagram
The March Hare can be found right next to the Castle in Guildford, ideal if you work right in the centre of town.
Having recently had a huge makeover, this pub is a must-visit if you're after grabbing a drink and some food in a stunning venue.
With an extensive Gin, Spritz List, Cocktails and Beer & Cider Menu, there's something to suit everyone's tastes here.
Luckily for you – The March and Hare is open 7 days a week, so there will always be time for you to change your schedule and pop in!
6. White House
View this post on Instagram
For true al-fresco dining, the White House is one of the best pubs in Guildford to visit.
You can find them nestled on the banks of the River Wey, and they even have a terrace overlooking the river, ideal for when the sun hits!
When it comes to drinks, there's an excellent selection of draught beers and wines to suit all preferences. They offer food throughout the week and are renowned for their mouth-watering Sunday menu…we'll leave you on that thought!
7. The Grantley Arms
View this post on Instagram
If you're after a pub in a quaint, stylish setting, then the Grantley Arms might just be the place for you. Decked out with exposed brick and huge wood beams, this country-style pub is guaranteed to provide a warm welcome any day of the week.
Serving an incredible drinks selection, including real ale, craft beer and premium spirits, you can be comforted knowing everyone will be catered for here.
Looking to dine outside? They have a covered section of the garden for you to chill with your friends.
8. The Drummond
View this post on Instagram
This is a venue you want to visit if you're looking for friendly service, a chilled atmosphere and a great range of drinks and grub to tuck into.
The Drummond has the perfect blend of British pub hospitality, with an individual and quirky charm.
Open 7 days a week, pop here whenever you fancy after work drinks and you will be welcomed with open arms!
And there we have it, some of the best pubs in Guildford, perfect for socialising with your colleagues! We hope you get to visit one soon.