Most people love being able to relax within their own space and tumble out of bed to their desk rather than rushing for their bus or train on the commute to work – it makes sense why it has become the norm within the corporate culture.
But it was not always so easy to change your working environment, in fact, going back a few years ago if you suggested to your boss that you were going to be working out of the office two days a week, they would think you were having them on. It just was not something we were accustomed to.
However, since Covid, it has become the norm within our society to work from a remote space, whether that be from your home, a café, a hotel, or anywhere that is out of the office.
Many workplaces have adapted to a hybrid model since coming out of the pandemic, which mixes both in-office and remote work.
Research suggests there are mixed views on working from home, with a study noting it aids in work productivity and is more flexible having a positive effect on mental health whilst the same study also found it can be isolating and distracting having a negative impact on mental health.
Whatever your opinion, at least now workers can be more flexible and are given the choice of which working environment works best for them.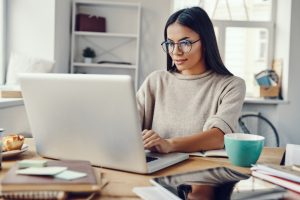 Who can work from home?
Workers within a variety of industries can work from home from admin-based jobs to marketing to digital customer service (Not the workers in Tesco, the ones who answer your queries online).
It tends to be the folks who work the typical 9-5 office jobs who can adapt their work. Unfortunately, if you are a bartender, you cannot really adapt to work from home. Imagine taking drink orders over Zoom calls!
Now, if you do work from home, you are probably curious about which gadgets you can add to your Amazon Wishlist. Who doesn't love a fancy piece of tech to show off to  colleagues on the next team's call!
If it wasn't for advancements in technology, then we wouldn't be able to work from our home, and the WFH (as it's known), has been also shown to aid our success and productivity.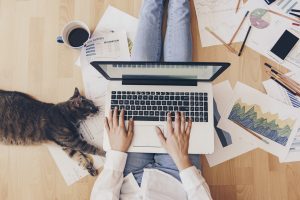 So what gadgets are out there?
Check out our list of the top 8 work-from-home gadgets you didn't know you needed below to find out what essentials you just have to get!
1) A Computer/Laptop of Course 
The Obvious One
Whether you're a newbie to WFH or you've been working from your bedroom since the beginning of the pandemic in 2020, you know the obvious tech that you'll need to be able to work from is a computer or laptop. You also have to have access to good internet service and video communication software so that you can stay connected with your colleagues and manage projects.
You could probably work from home on your iPad or Phone nowadays if you really wanted, but we think if you want to be as efficient as possible within your work, you need a bigger screen and keyboard if you're working long hours.
We think an essential for your WFH set-up is the MacBook Pro 13".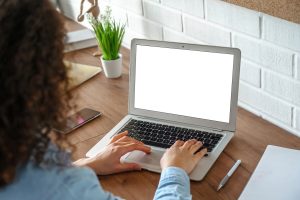 2) A Quality Headset
I Heard It Through the Grapevine
Another essential gadget you need to get is some good-quality headphones.
If you live in a busy household, then noise-canceling headphones are a must to block everything out. Or better yet, get yourself a headset with a built-in microphone if you frequently have video conference calls. They'll make a big difference!
We recommend adding the Bose Noise Cancelling Headphones 700 to your Wishlist for great audio quality.
After all, who wants to hear the dog barking when you're having an important call with your manager – how distracting!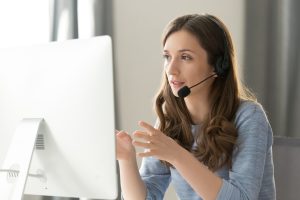 3) Protective Blue Light Glasses
Blue Monday
If you work remotely and are constantly staring at a laptop or computer screen, from working for 8 hours to then whacking on the tv as soon as you've finished for the day, then you really need to get some blue light glasses!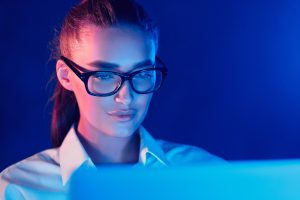 What do they do?
They reduce the amount of blue light that enters the eyes, which in turn helps with eye strain.
Don't worry you don't have to go splashing the cash for this gadget, MenKind has Folding Anti-Blue Light Glasses for under a fiver – bargain!
4) External Hard Drive
No more space!
Your computer is swamped in work files, and you might find yourself running out of storage with the dreaded warning message popping up on your desktop, but what do you delete – the family photos you have saved or the team project files?
If you are lucky enough to have a work laptop, then you won't have this problem as much because your personal files are separate.
Regardless, having an external hard drive for your work is important, as if anything happened to your device, then everything would be backed up.
There's nothing worse than when your phone breaks and you forgot to upload your photos to iCloud and now you've lost all the pictures in your camera roll.
We absolutely love the SEAGATE Expansion External Hard Drive – 1 TB, Black from Currys which will give you easy easy access to all your files and way more space.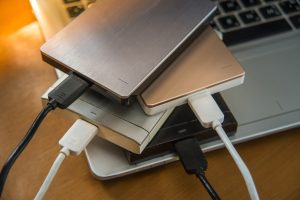 5) Coffee Machine
TIME FOR A BREAKKK!
Have you been working for a few hours in and out of video calls? You must be exhausted! It's time for a well-deserved tea or coffee break. But how can you really take your refreshment break to the next level? A coffee maker! Yes, this is for sure a gadget you didn't know you needed.
You're probably curious as to why you need this item.
Well, on your commute to work you probably used to pop into Starbucks or Costa for your morning brew, now you can make the perfect coffee shop style drink from your house. No more dealing with the anxiety of waiting for your name to be called out to be handed your espresso shot. 
Now you can escape video calls and go use your coffee maker in the comfort of your own home to stay focused.
We recommend getting the Dolce Gusto De'Longhi Piccolo XS Pod Coffee Machine its surprisingly easy to use and it's only 33 quid on Argos too! Treat yourself, we know you want to.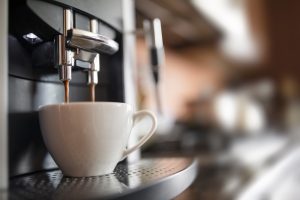 6) Wireless Mouse
Wireless is the way
How annoying is it when you keep worrying about your mouse wire every time you're scrolling? Well, having a wireless mouse can make using your laptop or computer easier and you have complete freedom with your desk movement.
We think you have to add the MICROSOFT Bluetooth Wireless Optical Mouse to your home office setup, and the best part is, you can easily connect this device to your computer with its Swift Pair feature.
Wooo! No one likes spending ages trying to pair a device when it just won't work!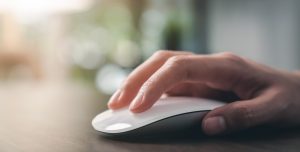 7) Wi-Fi Router
Lightning speed
You may find that your Wi-Fi is slow, especially if you live in a house with other people working from home or have lots of devices connected to the internet.
But what can you do? You've already spent loads on a new Wi-Fi box, the signal is still dropping and the 'Loss of connection' message keeps popping up when you go to join calls.
Well sing your praises, we have something to resolve your issues – a router!
What is a router?
A router allows all the devices in your home to connect wirelessly to the internet.
Why not get yourself the Amazon eero mesh Wi-Fi router to ensure you have speedy and reliable Wi-Fi in your home office.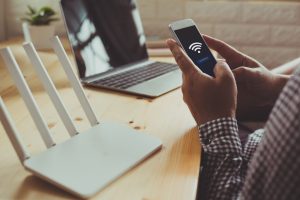 8) Portable vacuum
Clear workspace = clear mind
Working remotely means you don't have the luxury of having a cleaner coming in to clean your desk space. If you're in the comfort of your own home with a 10-second walk away from the kitchen and without co-workers seeing you go to the fridge for the fifth time this morning, then of course you're going to pig out on snacks!
However, this means your desk setup can get quite messy very quickly. When your workspace is full of clutter, it can distract you and make things feel chaotic.
That's why we suggest you add this desk accessory to your office setup – a portable desk hoover! Having a handheld hoover, is easier than dragging the big Henry around, and will keep your desk clean and tidy. You can even use them for multi-purpose to clean your car or your kitchen table.
Our recommendation for you is the Dustbuster Handheld Vacuum Cleaner from Argos to make your home desk look great and to help you stay productive.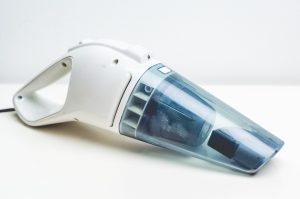 Thats the end, guys!
Go tempt yourself with work-from-home gadgets you didn't know you needed for your office space to share at the next group conferences.
If you enjoyed reading this blog, then you should deffo take a read of our blog on How To Achieve The Perfect Work-Life Balance.