We're now well and truly in Spring which means the weather's getting warmer and our need for cocktails is increasing.
We're not sure what your go-to cocktail is, but for us, there's just something about an Aperol Spritz in the sun which really hits the spot! 
If you're bored of drinking the same old same old and in need of some Springtime cocktail inspiration, we've put together this ultimate list so you can be a bartender at home. 
Trust us, you'll be sippin' these tipples all season long…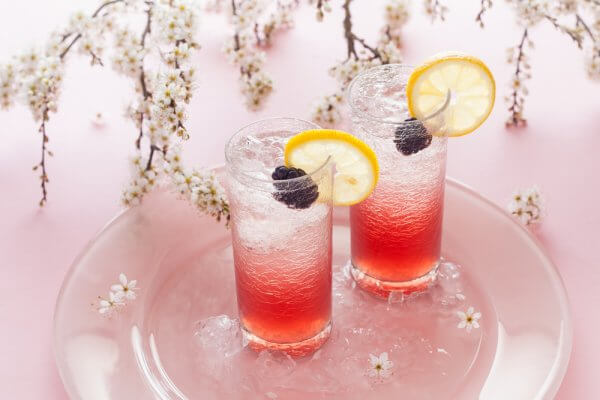 1. Strawberry Basil Margarita
For something fun, fruity and fresh this Springtime, you simply have to try a Strawberry Basil Margarita cocktail. 
This twist on a classic Marg is the definition of spring vibes, with a combination of 2 ounces of tequila, 1 ounce of lime juice, 1 ounce of simple syrup, 2 strawberries, as well as 2 basil leaves. 
To make this refreshing cocktail, shake all your ingredients with ice and strain into a glass filled with ice. 
To finish, garnish with a strawberry and basil leaf and there we have it, perfection!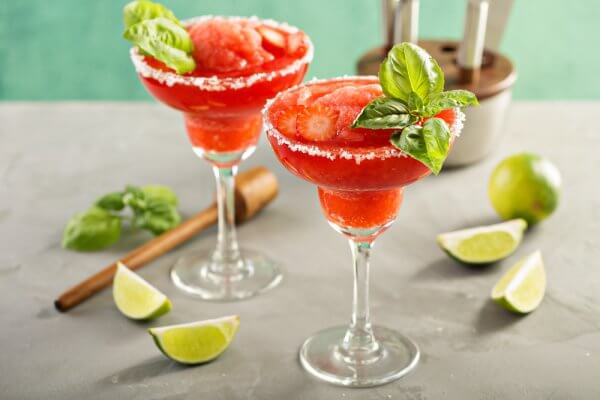 2. Lavender Lemonade 
Lavender Lemonade cocktails have springtime get-togethers written all over them. 
It's so easy to make with only a few ingredients, just grab your cocktail shaker and combine 2 ounces of gin, 1 ounce lavender syrup, and 1 oz lemon juice. 
Next, shake with ice and strain into a glass filled with ice, top with lemonade and garnish with a sprig of lavender.
There you have it, a refreshingly floral cocktail to cheers to the good times and soak up the spring weather!
The best part is, this pretty cocktail can quite easily be made into a mocktail and still taste unreal.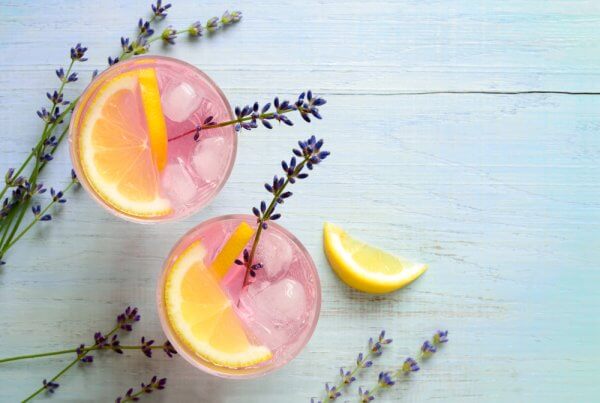 3. Grapefruit and Rosemary Gin Fizz 
For the ultimate at-home happy hour, you need to try this Grapefruit and Rosemary Gin Fizz.
It couldn't be more appropriate for spring, all you need to make it is 2 ounces of gin, 1 oz grapefruit juice, 1 oz simple syrup, and a sprig of rosemary. 
The next step is to get all your ingredients, shake with ice and strain into your glass of choice, filled with ice. 
Top your tipple with club soda and garnish with a slice of grapefruit and another sprig of rosemary if you're feeling fancy!
With sunnier weather on the horizon, this drink is the stuff of dreams for your next party.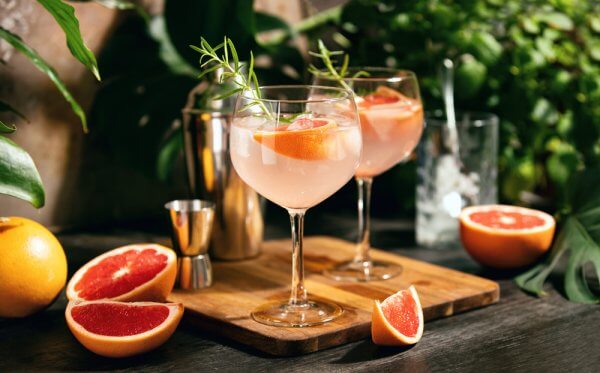 4. Peach Sangria 
As the seasons begin to change, trade in your Mulled Wine for a Peach Sangria. 
If you're lacking in bartender skills then don't worry, this cocktail is so easy to make and can be ready in only a few minutes. 
To make it, pour dry white wine, Cointreau, peach schnapps, golden caster sugar, cinnamon sticks, sliced limes and oranges into a large bowl, then stir and chill.
Next add some soda water and some ice and pour the mix into jugs, it really is that simple! 
If you love peaches as much as us, you're gonna love this one…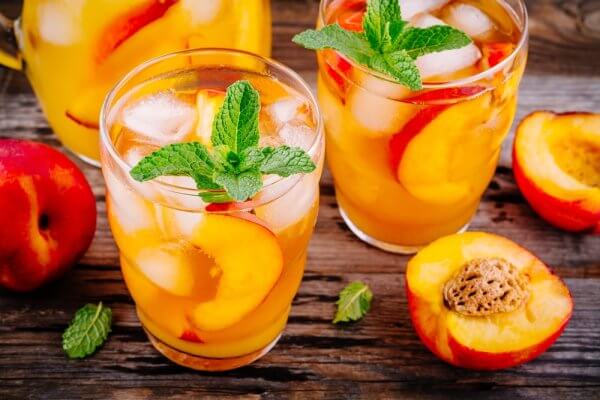 5. Mint Julep 
Embrace the Spring weather with a Mint Julep cocktail, the perfect drink for the Bourbon lovers out there! 
If you're searching for delicious whiskey cocktails, you won't get better than this one, it's incredibly easy and only requires a few ingredients to make. 
First, place the bourbon, mint leaves and sugar or simple syrup with ice and strain into a highball glass or julep tin filled with crushed ice. 
Next, churn the mix gently with a long-handled spoon and top with more crushed ice. 
Grab a mint sprig to garnish, making sure to gently slap it with your hands to release the aromatic oils, then voila it's ready to serve!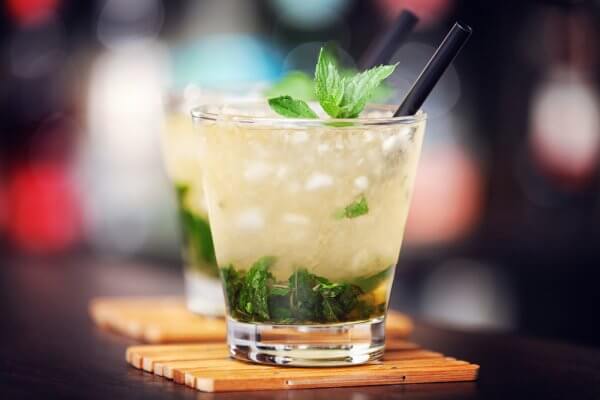 6. Rhubarb and Ginger Negroni
If you're wanting to celebrate the arrival of Spring, a Rhubarb and Ginger Negroni is a good shout. 
This version of the classic Negroni cocktail recipe is both tasty and super quick to make. 
In an ice filled glass, stir together 25 ml of gin, Campari and Martini Rosso, then add in 1 tsp of Rhubarb and ginger jam. 
To finish, stir all the ingredients together well, then top with orange peel and ginger candy on a cocktail stick.
As far as Negroni's go, this one is definitely easier to drink than the classic recipe, try it out!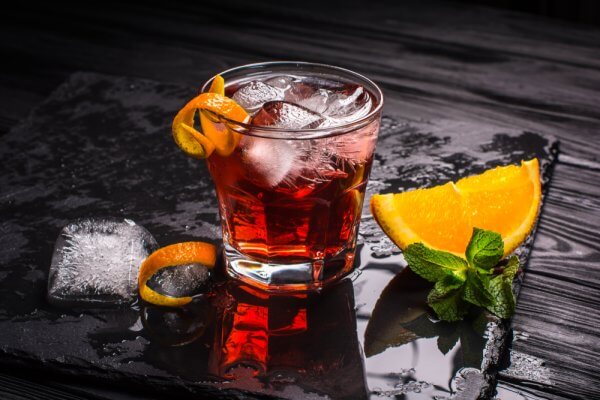 7. Frozen Watermelon Margarita 
Spring is the season of garden parties, and one drink which has to feature at your next event is a drum roll please… Frozen Watermelon Margarita. 
This tipple made with fresh fruit is the best way to cool off in the spring, all your guests will be loving it! 
First, you'll want to cut up your watermelon and freeze it overnight or or until it's completely frozen.
The next day, prepare the garnish for the rim of each glass. To do this, combine sea salt flakes, sugar, chilli flakes and lime zest in a small bowl, then set aside.
When you're ready to serve your cocktails, blend the frozen watermelon, tequila, triple sec, lime juice and honey until smooth. 
Run a lime wedge around the rims of your glasses, then dip in the garnish mix. 
Pour the mix into your glasses and you're ready to go!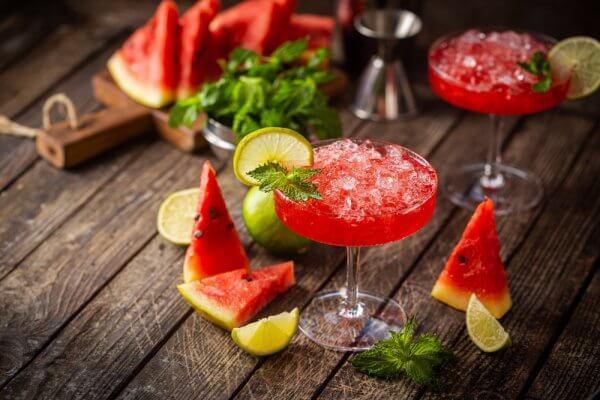 8. Pimm's Cocktail 
For your next at home date night, you need to whip up some glasses of Pimm's. 
If you're wanting a cocktail which is fruity and fresh yet light to drink, you'll want to try this one out. 
We know we've featured some quick and easy cocktail recipes, but this one really takes the lead with how simple it is to make. 
All you need to do is to fill a jug with ice and pour over the Pimm's and lemonade. 
Mix it all together and serve your fruity punch with fresh mint leaves, cucumber, orange and strawberries. 
This drink is sure to bring some colour to your glass and an array of flavours to your taste-buds!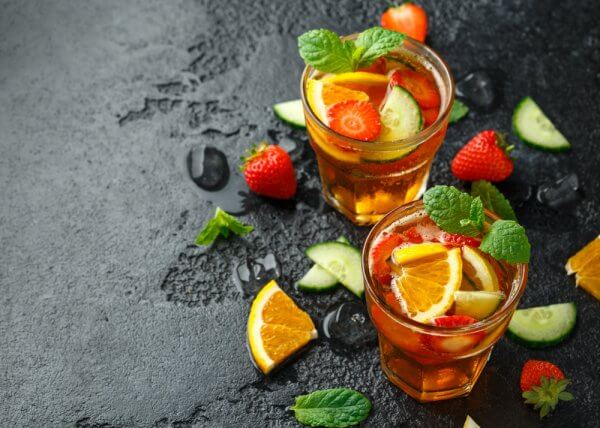 9. Tom Collins 
If you want to mix up a cocktail and toast to spring, what's better than a Tom Collins? It may be a classic but boy is it good! 
There's only a few easy-to-follow steps to make this gin-based cocktail. 
First add 2 ounces of gin, lemon juice and simple syrup to a Collins glass, then fill your glass with ice, top with club soda and stir.
To finish, garnish with a lemon wheel and maraschino cherry, then you're ready to get the party started!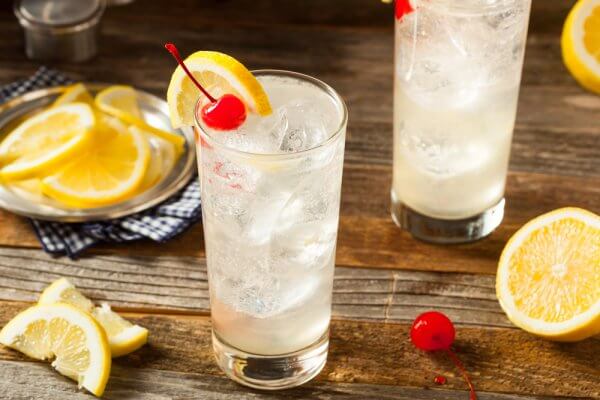 10. Mini Egg Martini 
Considering Easter is almost here we couldn't resist featuring this Mini Egg Martini cocktail recipe. 
We mean, it combines two of our favourite things, mini chocolate eggs AND irish cream, what's not to love about that?!
If you're wanting a chocolate fix this Spring, you'll need to heat 75ml milk in a saucepan until just up to simmering point. 
Then pour over some chopped chocolate in a heatproof bowl and stir to melt. 
Next, place your mini eggs in a small food processor until crushed and then tip onto a plate. 
Brush the rim of a martini glass with a little bit of honey then dip your glass into the crushed mini eggs. 
Now, pour the chocolate milk, Baileys and vodka into a cocktail shaker with the ice and shake well until cold. 
Finally, strain into your prepared glass and serve. This egg-cellent Easter recipe is irresistible, sorry we had to!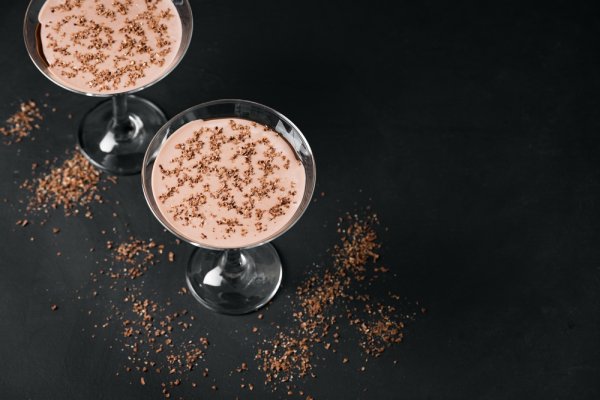 This ultimate list of spring cocktail recipes is ideal for a sunny afternoon so, get together with friends in your co-living accommodation, and cheers to the good times. Either one of these is sure to be a hit! 
What's your favourite spring cocktail? Let us know! 
For a blast from the past, read our post on 10 Old Social Media Platforms You Forgot Existed.