Kingston upon Thames is a town which is renowned for its history, character and nightlife, with its bars being at the heart of that. 
Life as a young professional can be stressful at times, but one of the best ways to unwind is by heading to a bar after a busy day, enjoying a few drinks, soaking up the atmosphere and spending time with your friends. 
So what are you waiting for? Say see ya later to that 9-5 life and say hello to the best bars in Kingston upon Thames close by to your co-living accommodation. 
We've put together this guide with the top 10 venues so you can find your regular watering hole to venture to when the working day is over – you can thank us later!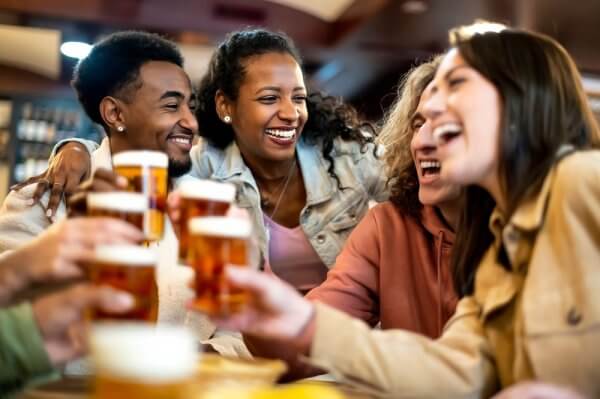 1. Incognito 
For a unique, multi sensual cocktail experience whilst living in Kingston upon Thames, we'd urge you to head to Incognito.
From the get to, arriving at this cocktail, gin and prosecco parlour is like entering a different world with a tropical rainforest theme featuring mini hot-air balloons floating about. 
Open every day until the early hours, you can enjoy a playlist of speakeasy tunes whilst sipping on exquisite cocktails, spirits or craft beers.
This place really is one of the coolest bars so, venture down after a busy working day to experience something different and see what it's all about! 
Address: The Griffin Centre, Kingston upon Thames KT1 1JT
2. The Ram 
Situated on the banks of the River Thames, The Ram is a popular spot for young professionals and locals alike with craft brews, real ales and a draught taproom. 
This friendly venue has everything you could want from a sunny beer garden to delightful British classics to an extensive drinks menu to great entertainment. 
If that wasn't all, they're also dog friendly so you can see some cute pups whilst necking back a few pints with your mates, who would say no to that?
Take a visit and see what's happening at this cosy place, you may just stumble across a pub quiz or a live music session! 
View this post on Instagram
Address: The Ram, 34 High St, Kingston upon Thames KT1 1HL
3. Bacchus Late Bar
On the hunt for a bar in Kingston upon Thames which has different music playing every day of the week? Bacchus Late Bar is the place for you.  
Situated on Union Street, this brick-lined late bar hosts DJs and live music nights which cover a wide range of genres. 
You can sing and dance until the morning, sip on a wide range of craft beers, spirits and cocktails as well as catch up with your friends in a buzzing atmosphere which you'll struggle to find elsewhere. 
The only thing is, this place has a strict no workwear rule so make sure to get changed into something more casual after a busy day! 
Don't just take our word for it though, take a visit…
View this post on Instagram
Address: 2 Union St, Kingston upon Thames KT1 1RP
4. The Fighting Cocks Bar & Venue
The Fighting Cocks Bar & Venue prides themselves as being the greatest Rock n Roll Bar in South West London.
As one of the town's premier hangout spots since 2000, this venue offers award winning comedy, great live music, cheap drinks, as well as pool tables, old school arcades and a jukebox. 
You can toast to the good times with luxurious cocktails, real ales, beers and spirits, or if you're feeling hungry then they serve up classic pub food like paninis, wraps, nachos and burritos. 
Open 7 days a week, this independent venue offers live music nights, stand up comedy, pub quizzes and themed events, be sure to check it out! 
View this post on Instagram
Address: 56 Old London Rd, Kingston upon Thames KT2 6QA
5. The Gazebo Pub & Riverside Dining 
The Gazebo Pub & Riverside Dining offers picturesque views across Kingston Riverside with a large menu of organically brewed beers, lagers and ciders. 
Whether you're looking for somewhere to head to for a pint and some lunch, or a spot to have some bevvies after working hard, this vibrant venue is not one to be missed. 
If you're feeling hungry forget about heading home, you can enjoy some traditional British pub food in the terraced restaurant whilst socialising with your friends. 
For stunning views across the River Thames, friendly service, and a relaxing atmosphere, experience it for yourself! 
View this post on Instagram
Address: 3-5 Thames St, Kingston upon Thames KT1 1QN
6. 7000 Jars of Beer
If you're a pint lover don't shy away from 7000 Jars of Beer, Kingston's first independent bottle shop and tap room. 
Located on Crown Passage, this craft beer venue stocks independent and classic breweries from across the UK so you'll have plenty to choose from when it comes to enjoying a few beers with your mates. 
The vibe here is super chill, you can sip on some drinks, chat to the knowledgeable staff, listen to good music and even bring in some scran from the nearby market if you want to. 
Don't worry if you're not much of a beer fan cos' they also serve up artisanal wine and interesting spirits including gin, whisky and tons more! 
View this post on Instagram
Address: H, 1 Crown Passage, Kingston upon Thames KT1 1JB
7. Woody's 
Woody's is an all-day bar and kitchen within a stunning location in the heart of Kingston. 
This independently run riverside venue prides itself on being an extension of your living room, with an unpretentious vibe, carefully selected craft beers, cocktails, wines and spirits for you to choose between. 
If you're after a bite to eat, The Vegan Junkyard serves up mouth-watering plant based dishes for you to feast on – don't mind if we do! 
This excellent venue is quickly becoming one of the best bars in the town, with live music events, lively quizzes and great river views with outdoor seating so you can make the most of the weather. 
If you somehow haven't headed here yet, what're you waiting for?
View this post on Instagram
Address: 5 Ram Passage, Kingston upon Thames KT1 1HH
8. Druids Head 
Druids Head is the oldest pub in Kingston upon Thames, located inside a Grade 2 listed building from the early 16th century.
You'll find this cosy place in the middle of Market Square in the centre of town, with an eclectic selection of drinks with something for everyone including beers, wines, cocktails and spirits. 
It's the perfect place to go for a chilled catch up with your friends with a 2-4-1 deal on drinks Monday to Thursday from 4pm until 7pm, who would turn that down?
If you're searching for somewhere to eat, drink and relax, take a visit to this place. 
Just make sure it's on a Thursday so you can get involved in their weekly pub quiz! 
View this post on Instagram
Address: 3 Market Pl, Kingston upon Thames KT1 1JT
9. The Grey Horse – SMOK'D
The Grey Horse is a multi-award winning whiskey and cocktail bar serving up some of the best burgers and barbecue food in south-west London. 
Fiercely independent, this hidden gem is truly one worth visiting with a wide range of wines, whiskey, cocktails as well as draught keg craft beer, lager, cask ales. 
If you're feeling hungry, treat yourself to some of their famous BBQ meats, a juicy burger, some loaded fries or chicken wings, you'll be amazed by the quality and quantity. 
Not only do they have an amazing food and drink selection at this cool bar, they also have live bands playing all the best tunes, hilarious comedy shows and a variety of deals so, going out doesn't have to break the bank. 
View this post on Instagram
Address: 46 Richmond Rd, Kingston upon Thames KT2 5EE
10. The Spring Grove 
Lastly, within our guide to the best Kingston bars is The Spring Grove, which has been part of the town's community since 1896. 
This shabby chic venue is the perfect place to share some warming cocktails with your friends, sip on some award-winning wines, or try some of the cask-conditioned ales or craft beer, the choice is yours! 
They also serve up pub classics and a mean traditional Sunday roast so, if you're not fancying cooking to draw the evening to a close, make sure to check out their tempting menu.
When the weather is nice, you can sit back and relax in the gorgeous beer garden with plenty of comfy seating, a heated decking, fire pit and cosy huts. 
If a drinking den is what you're after, we can't think of a better place than this one…
View this post on Instagram
Address: 13 Bloomfield Rd, Kingston upon Thames KT1 2SF
As you can see, there's no shortage of bars to keep you entertained as a young professional working and living in this historic town within south-west London. The question is, which Kingston venue will become your regular drinking spot? 
If you're a pizza lover wondering where the best foodie spots in Kingston upon Thames are, we have JUST the guide for you!