Now Springtime is underway, it only means one thing… It's officially beer garden weather! If you're looking to head to one of Sheffield's many beer gardens, then you've clicked on the right blog post. 
Whilst living in our co-living accommodation, you'll be within easy reach of all of these hangouts, so you can enjoy some casual pints, eat some street food and catch up with friends after the working day is over. 
Read on to discover your ultimate after work spot…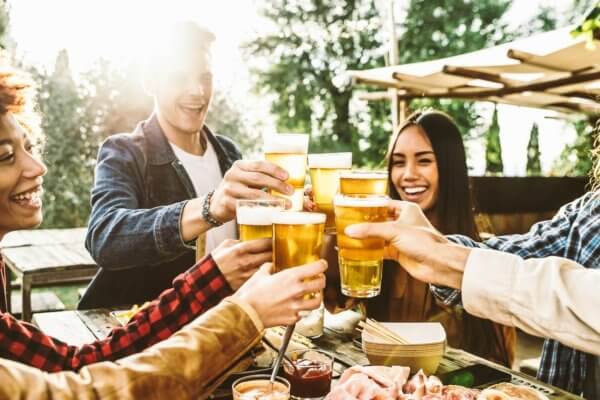 1. The Nursery Tavern 
If you're wanting to make the most of the outdoors and enjoy a nice crisp pint, we highly recommend taking a trip down to The Nursery Tavern. 
Situated on the buzzing Ecclesall Road, this local boozer is home to a huge beer garden, equipped with plenty of seating, as well as TVs for watching the latest sports showings. 
Their Noughties Happy Hour is from 5-8pm Monday to Friday, where you can make the most of all of your favourite beers, ciders, spirits and cocktails for only £3! 
This vibrant venue is always a great place to visit with friends, and they even offer top-notch pub food if you need something to soak up the ale. 
View this post on Instagram
Address: 276 Ecclesall Rd, Broomhall, Sheffield S11 8PE
2. The Millowners Arms 
Drinking when the sun is shining just hits different, and one beer garden in particular which stands out for us is The Millowners Arms. 
Tucked away on Sheffield's Kelham Island, this traditional pub has plenty of sheltered and open seating in their large courtyard making it a great place to soak up some rays. 
When it comes to your drink order, this friendly drinking hole serves up rotating craft beers, local ales and cocktails so you're bound to find your tipple of choice. 
They've also got live music, comedy, DJs and weekly food speciality nights so you'll have everything you need for a good time. 
If you're feeling peck-ish, they even offer small plates and full Sunday roasts. 
View this post on Instagram
Address: Alma St, Sheffield S3 8RY
3. Riverside Kelham 
If you're looking for a buzzing drinking spot to head to when the sun makes an appearance then Riverside Kelham should be at the top of your list. 
Their funky beer garden area offers great views over the River Don, with plenty of seating to get those good vibes flowing. 
For the pint lovers out there, they offer True North cask lines and guest cask lines, a constant rotation of craft beers, as well as a range of gins and other spirits to choose from. 
And if that wasn't enough, they also have an outdoor bar so you only have to walk a few feet from your table for a bevvy! 
Hungry? They have grazing boards, salads, and pub classics on the menu so you can grab a bite to eat.
View this post on Instagram
Address: 1 Mowbray St, Neepsend, Sheffield S3 8EN
4. Dorothy Pax 
If you're looking for a place with a unique and friendly vibe, Dorothy Pax is a little gem located on Victoria Quays. 
Home to a fantastic beer garden overlooking the canal, this is a great spot to relish in the sunshine and watch the world go by, with tons of seating. 
On their menu is an excellent selection of real ales, international beers, fine ciders, wines and spirits, and they even serve up some banging pub grub too. 
You're sure to be entertained here with killer live music nights during the evening and on the weekend – booze and music, it doesn't get better than that! 
No real ale trail in Sheffield is complete without a visit to this venue, and you can even say hello to the resident dog.
View this post on Instagram
Address: Arch 17, Wharf Street, Victoria Quays, Sheffield S2 5SY
5. Neepsend Social Club and Canteen
If you're wanting to be transported back to the 1970s, then Neepsend Social Club and Canteen is the place to be. 
This distinctly retro venue is Sheffield's newest social club and canteen, located slightly beaten off track in Kelham Island. 
On a sunny day, you and your pals can take a pew on their outdoor benches, pick your poison from their great selection of craft beers and usual tipples, and make the most of the relaxing atmosphere. 
If you need some food to round off your day drinks, they also have unpretentious British food on the menu. 
There's even a games room featuring darts boards and table football, if you fancy getting competitive after a few drinks. 
A pint here has got your name written all over it… 
View this post on Instagram
Address:  Unit 2, 92 Burton Rd, Neepsend, Sheffield S3 8DA
6. Picture House Social 
Once the sun starts shining and you've finished work for the day, Picture House Social should be your first stop.
This independent venue is housed in the underground ballroom room of the 1920s built Abbeydale Picture House, and is now the ultimate drinking den. 
Kitted out in funky interiors, this place prides themselves on offering music, cocktails, craft beer, Neapolitan style pizzas and Italian inspired street food. 
Whilst their outdoor terrace isn't the biggest, it's nonetheless a great area to fill up on some refreshing pints. 
There's also a games room with shuffleboard so you won't be rushing to move onto the next place after taking a trip here! 
View this post on Instagram
Address: 383 Abbeydale Rd, Nether Edge, Sheffield S7 1FS
7. Saw Grinders Union
Situated in the industrial-hip neighbourhood of Kelham Island, this laid-back bar is the place to be for bevvies and fun in the sun with your friends. 
We can't praise Saw Grinders Union enough, with classic cocktails, a wide selection of beers and ciders, wines and bottles on the menu, as well as a huge courtyard area perfect for making the most of the weather. 
If you start to feel a little peck-ish, they serve American staples including burgers, wings, french toast, waffles and other plates.
Wanting to save some pennies? You can take advantage of their burger and beer deal for £10 – talk about value for money! 
View this post on Instagram
Address: Globe Works, Sheffield S6 3AE
8. Gatsby 
Voted the best bar in Sheffield in 2022, we couldn't leave Gatsby off our list. 
Great summer memories are sure to be made within Gatsby's quirky beer garden, conveniently located within Sheffield City Centre. 
If you're fancying a cheeky cocktail, their Happy Hour is on from 4-7pm throughout the week and all day on Sundays, where you can get 2 drinks for £12 – who could say no to that! 
Not only do they deliver a great drinks menu, but they also have flavourful Mexican plates on offer with the likes of Shy Boy burritos, tacos, fried chicken, creamed corn, Quesadillas and loaded fries. 
If you don't want the good times to end, they're even open until 3am so you and your friends can party until the early hours. Although, you'll have to move inside from the beer garden!
View this post on Instagram
Address: 73-75 Division St, Sheffield City Centre, Sheffield S1 4GE
9. Rutland Arms 
Up next on our top picks of Sheffield's best beer gardens is the Rutland Arms. 
This traditional pub is situated inside an early 20th building, and prides themselves on providing great booze and food, along with friendly service. 
With a walled beer garden ideal for cooling down on a sunny day, as well as 20 cask and keg taps, specialist bottles and cans, wines, spirits, ciders as well as vegan and gluten free brews, you're guaranteed to have a great time. 
Fancy putting on your own tunes? You can knock yourself out with their funky jukebox. 
Located just a few minutes walk from Sheffield Train Station, this pub couldn't be more conveniently placed for after work drinks! 
View this post on Instagram
Address: 86 Brown St, Sheffield City Centre, Sheffield S1 2BS
10. Forum Kitchen + Bar 
Forum Kitchen + Bar is a lively drinking destination which ticks all the boxes, so you won't be leaving in a hurry. 
What can you expect? There's a deck chair lined terrace, crafted cocktails, late-night DJs, as well as sandwiches, pizzas, burgers and more tasty dishes to make the most of here. 
Whether it's a few drinks and some food with your friends after work, or a weekend drinking session you're after, the outdoor space here is the ultimate place to catch a tan, and a pending hangover. 
Open until late everyday of the week, you have no excuse not to be there with a pint in hand when the weather's cracking the flags! 
View this post on Instagram
Address: The Forum, 129 Devonshire St, Sheffield City Centre, Sheffield S3 7SB 
The Steel City is home to so many vibrant beer gardens to head to, so you'll have plenty of places to pick from for your next drinking session. 
Want to make your own cheeky spring cocktails at home? We've got JUST the guide for you on all the best recipes.